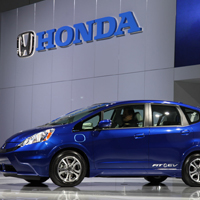 If driving a more fuel-efficient vehicle is among your New Year's resolutions – and money is no object – plenty of options are available for 2013.
Zachary Shahan at CleanTechnica.com offers the "10 Most Fuel Efficient Cars" for the new year, "all electric, of course," ranked by a combination of truly impressive city MPG and highway MPG that represent a tech-tonic shift in automobile mileage for the new millennium.
Based on the EPA's just-released fuel economy guide, the Scion iQ EV is the most fuel-efficient vehicle with a combined, ultra-stingy 121 Miles Per Gallon of gasoline, 138 MPG city and 105 highway, for 2013. (Motor Trend rates the iQ at 36 MPG city and 37 MPG highway.) The vehicle's MSRP is $15,495, according to the automotive website Edmunds.com.
"The 2013 Scion iQ is a minimalist metropolitan runabout that gets great fuel economy and can be parked practically anywhere. There are larger, more practical cars that cost about the same, though."
The second and third-ranked 2013 vehicles, respectively, are the Honda FIT EV at 118 MPG combined (132 city, 105 highway) and the Mitsubishi i-MiEV at 112 MPG (126 city, 99 highway). The Fit's MSRP comes in at $15,425, while the i-MiEV will sell for about $29,125 MSRP.
"The 2013 Honda Fit is no longer the only choice for a fun-to-drive, well-rounded subcompact," reports Edmunds, which rated it 4.5 out of 5 stars, "but it remains the hands-down utility champ."
Also ranking in the CleanTechnica Top 10 are two Smart ForTwo EVs, the Cabriolet and the Coupe, both with combined 107 MPG (122 city, 93 highway); two Tesla Model Ss (60 and 85 kW-hr battery packs), combined 95 MPG (94 city, 97 highway) and combined 89 MPG (88 city, 90 highway), respectively; and the No. 6 ranked Ford Focus Electric vehicle, combined 105 MPG (110 city, 93 highway).
The Chevrolet Volt with a combined MPG of 62 (63 city, 61 highway) ranked No. 10.
"You've heard all the hoopla about the Volt," wrote contributor Jason Fogelson at forbes.com in a Nov. 19 article titled "2013 Chevrolet Volt – Not Quite Electrifying." The car "debuted to much acclaim as a 2011 model, [but] has undergone only minor changes in the two model years that followed."
For a comprehensive listing of 2013-15 alternative vehicles, including "lots of choices with new hybrids, EVs, PHEVs and Diesels, visit Edmunds.com. You also can find more on the demand for fuel-efficient vehicles, "What's sparking small-car buying trend" and "Motor Trend Car of the Year: Tesla S Electric," at Santander Consumer USA's RoadLoans blog, "The Open Road."