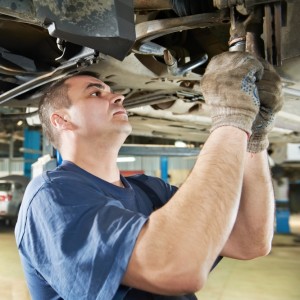 Millions of cars on American roads have been recalled but not repaired, a problem amplified by the large number of vehicle recalls so far this year.
That's not the fault of the automakers, who, by definition, intend to fix the vehicles.
About 30 percent of vehicle owners do not respond to recalls, according to the National Highway Traffic Safety Administration, which even in the best years amounts to several million vehicles.
But in an especially difficult year for the automakers, in which about 26 million vehicles total have been recalled in the United States, already nearing the existing record of 30.8 million, that figure comes in around eight million flawed vehicles that have not been taken to repair shops for servicing.
So far, General Motors alone has recalled nearly 18 million vehicles in the U.S. and more than 20 million worldwide, according to a report online at CBS moneywatch, and other automakers, including Toyota and Ford, have recalled about 8.5 million vehicles, reported USA Today.
(Of course, not all vehicle recalls issued by the manufacturers involve safety issues.)
Some experts suggest that the number of recalls makes it more likely vehicle owners won't respond.
"The millions of recalls that have been issued this year made the situation worse, and response rates lower. The typical consumer reaction seems to be, 'My car's running fine. Do I need to bother?' " Jack Nerad, veteran of the auto industry and executive market analyst for KBB.com told USA Today. "The fact is, they should bother, but getting them to grasp that is a bit like trying to push a string."
"There is a thought that, 'Manufacturers are being overprotective and there's nothing wrong with my car,' " Jesse Toprak, a top industry analyst at Cars.com told USA Today in a recent article, "Recalls becoming 'background noise' that owners ignore".
Here's an infographic listing all 44 General Motors recalls to date with reasons and numbers of vehicles.
There are several ways in which an owner may be notified whether their vehicle has been recalled:
Manufacturers must notify all registered owners and purchasers by first-class mail within a reasonable time after determination of a safety defect or noncompliance, according to safercar.gov.
A dealer should tell you a recall is in effect when your vehicle is brought in for maintenance.
Vehicle owners may check with their dealership and ask a service adviser to run your vehicle identification number (VIN) through their computer system, or check with safercar.gov.
"Checking for recalls on your vehicle will only take you a few moments," suggests edmunds.com. "Breaking down by the side of the road will take you hours, or days, to get back up to speed and may require major repairs. As always, planning ahead has its rewards."