More consumers than ever are opting to purchase electric vehicles.
But that still was only about 280,000 last year, according to the International Energy Agency, or around 1.6 percent of U.S. new-vehicle sales.
While sales have been climbing steadily – they were around 160,000 in 2016 – and EV advocates have taken heart, there is an elephant in the room. What happens when the electric vehicle tax credit ends as individual carmakers start breaking through the 200,000 sales ceiling?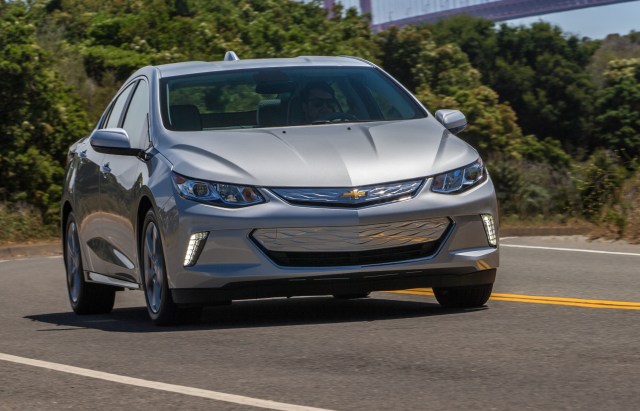 Will you pay 22 percent more for a moderately priced EV costing, say, $37,500 instead of $30,000?
Right now, only Tesla sales have surpassed 200,000, largely because of the popularity of its Model 3, but General Motors, which sells the Chevrolet Bolt and the less expensive Volt, is approaching the ceiling.
InsideEVs reports that GM has sold about 193,500 of the green vehicles, just 6,500 short of the ceiling. Once it gets there, the maximum $7,500 tax credit will be available on sales only through the following quarter, then drop to $3,750 for six months and $1,875 the next six months before it disappears.
RELATED
Are you getting left behind by the electric-vehicle revolution?
How important is the federal tax credit (and other state incentives) to EV sales?
"It can be a decisive factor for newer EVs such as the Chevrolet Bolt and Tesla Model 3 that are trying to keep the sales price to about $30,000 after the credit," suggested a report in the Detroit Free Press.
Other reports said that EV sales fell 90 percent when Georgia dropped its $5,000 state tax credit in 2015 and predicted that "you'll see sales crater" in states without EV mandates or incentives. Even Congressional budget-cutters sought to eliminate the electric vehicle tax credit earlier this year.
But until something happens, about 70 other EV models by 27 manufacturers besides Tesla and General Motors still will be available with tax credit, based on the U.S. Energy Department.
Here are 20 EVs currently selling for $30,000 or less after the federal tax credit, according to InsideEVs:
smart fortwo ED Coupe (2018) – $17,150
Hyundai IONIQ Plug-in Hybrid (2018) – $21,292
smart fortwo ED Cabriolet (2018) – $21,350
Hyundai IONIQ Plug-in Hybrid (2019) – $21,692
Ford Focus Electric (2018) – $22,495
Hyundai IONIQ Electric (2018) – $22,885
Hyundai IONIQ Electric (2019) – $23,200
Nissan LEAF (2018 and 2019) – $23,375
Toyota Prius Prime (2018) – $23,718
Volkswagen e-Golf (2018) – $23,890
Kia Niro PHEV (2018) – $24,297
Chevrolet Volt (2018) – $26,595
Fiat 500e (2017) – $26,790
Honda Clarity Plug-in Hybrid (2018) – $26,795
Kia Soul EV (2018) – $27,345
Ford Fusion Energi (2018) – $28,268
Tesla Model 3 Standard – $28,700
Hyundai Sonata PHEV (2018) – $29,216
Mitsubishi Outlander PHEV (2018) – $29,754
Chevrolet Bolt EV (2018) – $29,995
There's still time to purchase an EV with the tax credit if you're shopping for 17 of the 20 vehicles listed. But it's running out for the Tesla Model 3 and the Chevrolet Volt and Bolt.
Of course, you'll still be able to buy them, but it's liable to cost you $7,500 more than it does now.