Road trip.
The term conjures all sorts of thoughts – mostly positive – especially during the summer.
And then you have to plan it.
Or you can do what University of Pennsylvania researcher Randy Olson did and crank up your supercomputer over the weekend to do the work for you.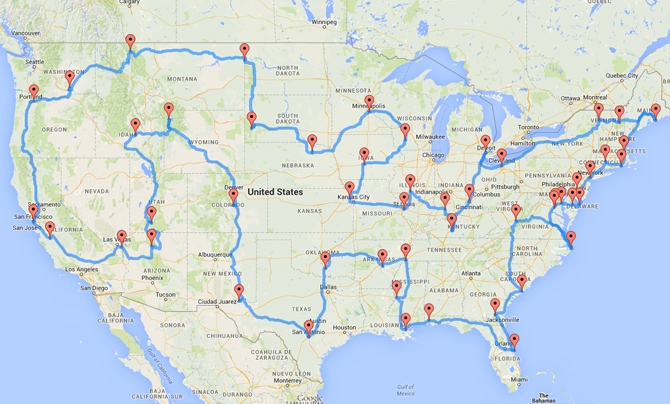 Olson was challenged by Discovery News to compute the optimal road trip through every state in the United States (or, the lower 48, at least), plus Washington, D.C., while visiting 50 major natural landmarks, historic sites, national parks and monuments selected by DN.
"The result was an epic itinerary with a mix of inner city exploration, must-see historical sites, and beautiful natural landscapes," Olson wrote in describing the project.
To accomplish the feat, he had to "exhaustively evaluate" practically infinite route possibilities.
"To provide some context," Olson wrote, "if you started computing this problem on your home computer right now, you'd find the optimal route … long after the Sun has entered its red-giant phase and devoured the Earth."
Figuring that was too long to be of use to most of us, he took a different road, as it were.
What he found in less than a minute is, perhaps, the ultimate road trip – 13,699 miles, about 224 hours (assuming no traffic), or 9.33 days of driving that takes a circuitous route around the U.S. Realistically, it's an "epic undertaking" that would take two to three months to complete, Olson estimated.
"The best part is that this road trip is designed so that you can start anywhere on the route as long as you follow it from then on. And, as an added bonus, you won't spend too long driving through the endless cornfields of Nebraska."
Among the stops, Grand Canyon, AZ; Yellowstone National Park, WY; The Alamo in San Antonio, TX; Elvis Presley's Graceland in Memphis, TN; Cape Canaveral Air Force Station, FL; the White House in Washington; the Liberty Bell and Statue of Liberty in Philadelphia, PA, and NY/NJ, respectively; the Gateway Arch, St. Louis, MO; Mount Rushmore, SD; San Francisco, CA, cable cars, and Hoover Dam, NV.
Visit Olson's blog for more details about the trip, including an interactive map of the route, the complete list of 50 stops in order, and the computing methods he used to sort it out.
Then pack up the family and get started, you have a lot of miles to cover.