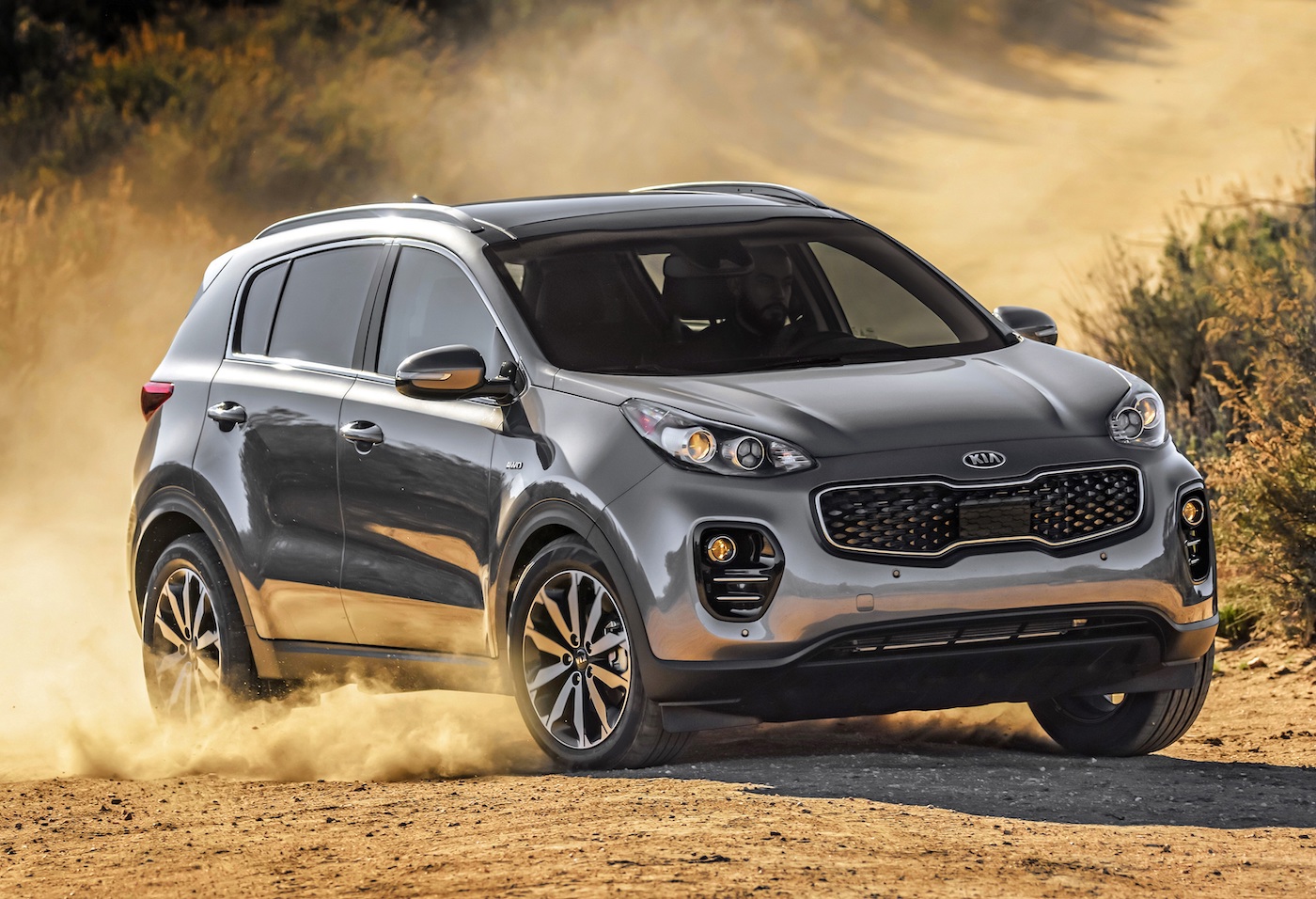 Photo credit: Kia via Newspress USA
Segment winner Kia Sportage helped lead the brand to J.D. Power honors.
Used cars are better than ever.
That's the implication of the latest vehicle dependability study by J.D. Power.
And the best of the best? That would be Lexus, the top premium brand, and Kia, the top mainstream brand, although 13 brands were rated better than the industry average.
Toyota Motor Corporation received the most manufacturer awards among the 18 segments JDP identified, with five winners – two Lexus models and three Toyotas. General Motors and Hyundai Motor Group, including Kia, each received four segment awards.
Among individual brands, Chevrolet, Kia and Toyota tied for the most segment awards with three each. Overall, JDP identified a total of 49 vehicles as winners and runners-up in the 18 segments.
"The results validate what we have known for some time," said JDP's Dave Sargent. "Today's three-year-old vehicles are of higher quality and more dependable than in previous years. Most owners aren't experiencing their vehicles breaking down or falling apart."
However, audio/communication/entertainment/navigation technology remains a major sticking point.
"For many, vehicle technology continues to function poorly or inconsistently," Sargent said. "If an owner can't rely on a system to work as they expect, it is also considered a lack of dependability. It affects their overall view of the vehicle and their likelihood of staying loyal to their automaker."
JDP's 2021 U.S. Vehicle Dependability Study looked at problems per 100 vehicles (PP100) for three-year-old SUVs, cars, trucks and minivans – the 2018 model year – and ranks 33 manufacturers from lowest to highest PP100, with lower scores representing better performance reported by owners.
Lexus brand, for example, scored 81 on the PP100 scale, while Kia scored 97 PP100. Porsche ranked second overall and among premium brands with 86 reported PP100.
Overall performance of three-year-old models over a 12-month period was the best in the study's 32-year history, with 121 PP100 based on responses from 33,251 original owners still driving their vehicles. That's about 10% better than the PP100 of 134 that JDP reported in 2020, a benchmark that another nine brands would have beaten if it was applied to 2021 results.
The top 13 brands are Lexus, Porsche, Kia, Toyota (98 PP100), Buick (100), Cadillac (100), Hyundai (101), Genesis (102), Lincoln (106), Acura (108), BMW (108), Chevrolet (115) and Mitsubishi (116). Mazda, Mercedes-Benz, Ram, Dodge, MINI, Subaru, Audi, Nissan and Ford also beat the 2020 benchmark.
Following are segment, segment winners and runners-up:
Sport Utility Vehicles
Compact
Winner: Buick Envision
Runners-up: Toyota Rav4 and Subaru Forester
Compact premium
Winner: Porsche Macan
Runners-up: Lexus NX and Lincoln MKC
Small
Winner: Kia Sportage
Runners-up: Buick Encore and Hyundai Tucson
Small premium
Winner: Mercedes-Benz GLA
Runner-up: Audi Q3
Midsize
Winner: Kia Sorento
Runners-up: Toyota Highlander and Ford Edge
Midsize premium
Winner: Lexus GX
Runners-up: Cadillac XT5 and Lexus RX
Large
Winner: Chevrolet Tahoe
Runners-up: Chevrolet Suburban and GMC Yukon
Passenger cars
Compact
Winner: Volkswagen Beetle
Runners-up: Chevrolet Cruz, Toyota Corolla and Toyota Prius
Compact premium
Winner: Lexus ES
Runners-up: Lincoln MKZ and BMW 4 Series
Small premium
Winner: BMW 2 Series
Runner-up: Audi A3
Midsize
Winner: Kia Optima
Runners-up: Hyundai Sonata and Ford Fusion
Midsize premium
Winner: Genesis G80
Runners-up: Cadillac CT6 and BMW 5 Series
Midsize sporty
Winner: Chevrolet Camaro
Runner-up: Dodge Challenger
Large
Winner: Toyota Avalon
Runner-up: Chevrolet Impala
Pickups and vans
Large light duty pickup
Winner: Toyota Tundra
Runners-up: Chevrolet Silverado and Ram 1500
Midsize pickup
Winner: Nissan Frontier
Runner-up: Honda Ridgeline
Large heavy duty pickup
Winner: Chevrolet Silverado HD
Runner-up: Ram 2500/3500
Minivan
Winner: Toyota Sienna
Runners-up: Dodge Grand Caravan and Chrysler Pacifica
For more on the 2021 study, see the J.D. Power press release online.
And if you're looking for an older used vehicle, results of J.D. Power's Vehicle Dependability Study going back 18 years to 2003 are available online.