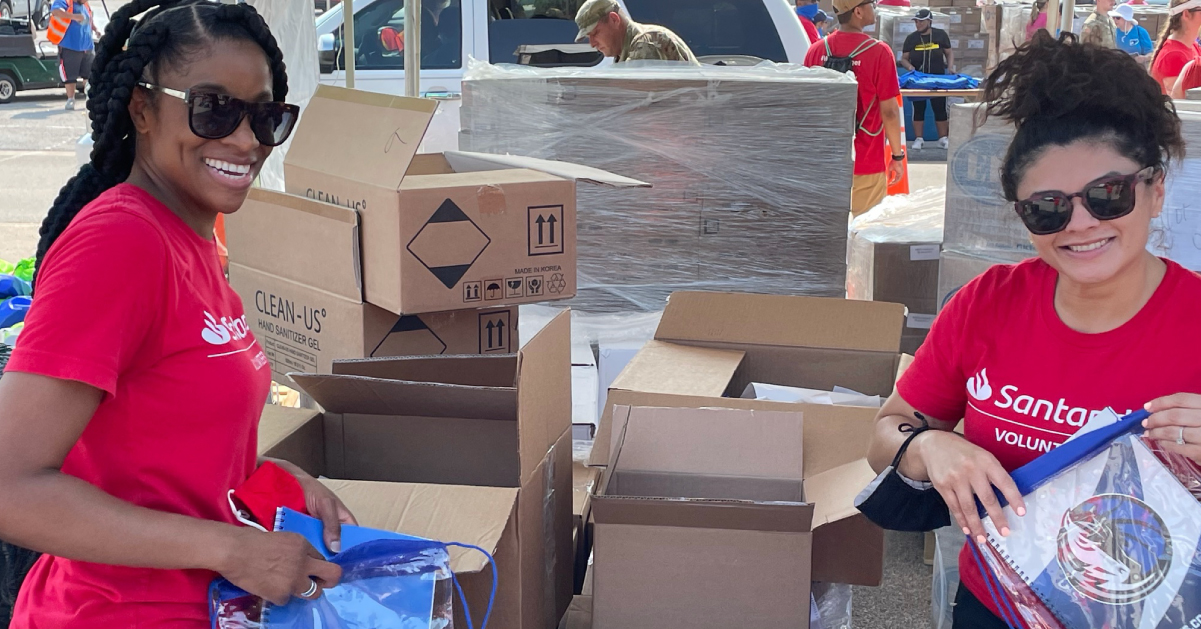 It's the 25th year that the City of Dallas has made a way to help underserved families get a jump start on school supplies and Santander volunteers were there to help. At the 25th Annual Dallas Mayor's Back to School Fair, volunteers distributed and provided families with essential supplies to help underprivileged kids get a good start to the school year. Myrna Rivera was one of those volunteers. With the pandemic still looming, she felt it necessary to help families prepare for school.
"It was important for me to help underprivileged families in need of school supplies," says Rivera, a senior auditor at Santander Consumer USA. "Thousands of families, especially Latinos, lost their job during the pandemic and it's important for me to help them."
The event was coordinated by Conexión, Santander's employee resource group dedicated to the development, empowerment and growth of Latino and Hispanic colleagues. Fifty volunteers helped stuff backpacks with school supplies and load them into cars for the drive-thru event. More than 10,000 backpacks were distributed.
The event not only benefitted those families in need, but also shined a light on the work that still needs to be done in low-income communities. Following the event, 35 percent of the company's volunteers in attendance for the school supply drive registered to be a part of the Conexión family. Rivera says that's a testament to Santander's and Conexión's dedication to giving back to the communities we serve.
"The participating families couldn't be more grateful," says Rivera. "They were happy, thankful and encouraged to get a good start to what will hopefully be a successful school year. At the same time, I was proud to be a part of what Conexión is doing and how that encouraged others to join in and be of assistance."