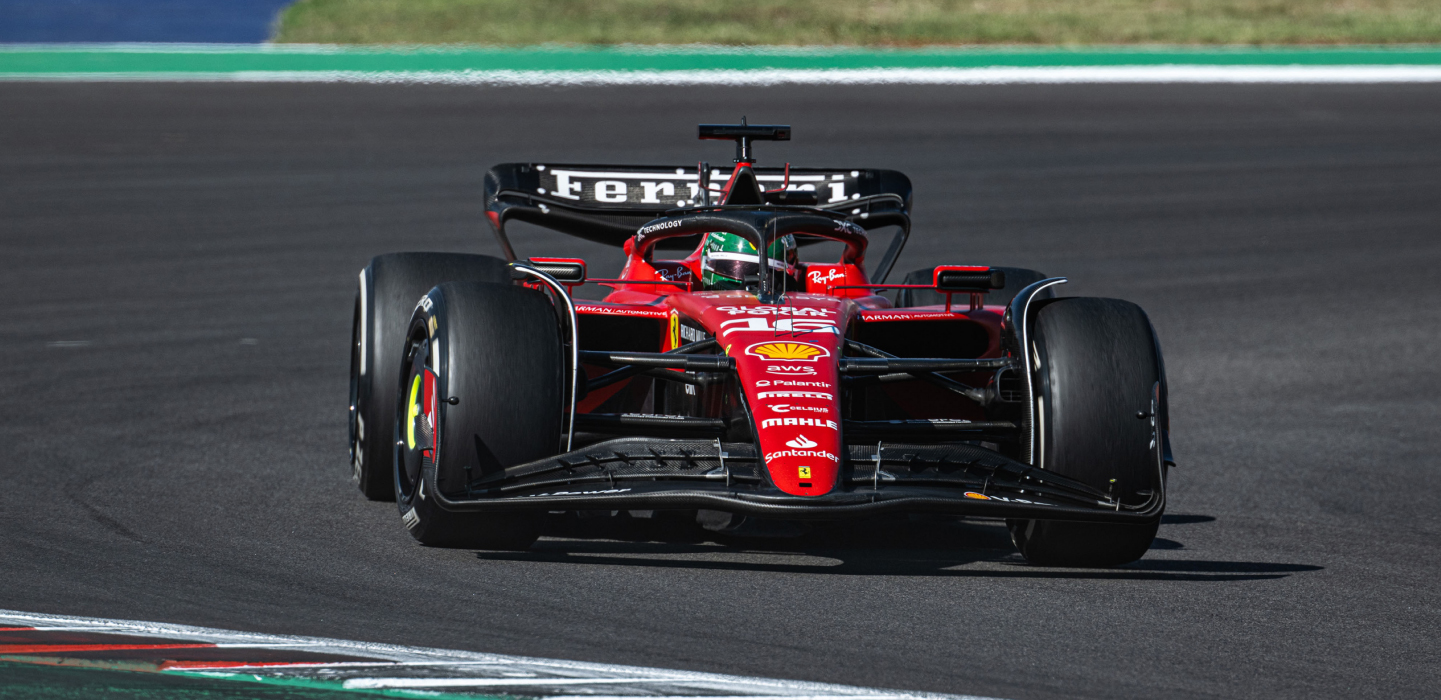 The results are in. And it's a figurative first place on the podium for Austin, Texas, and the Lone Star State after hosting last week's thrilling Formula 1 (F1) auto race.
If you're looking for evidence that supports the slogan that "everything's bigger in Texas" – the Formula 1 Lenovo United States Grand Prix 2023 was a prime example.
Action, drama, celebrities (Patrick Dempsey, Adam Driver, Joe Jonas), concerts by The Killers and Queen + Adam Lambert and the fastest cars driven by high-profile athletes lit up the state capital for a motorsport showcase like no other.
Reaching average speeds north of 200 mph, 20 international drivers from 10 racing teams competed over 56 laps along the Circuit of The Americas' 3.41-mile track. While the drivers were competing for the trophy, it was the 430,000-plus weekend spectators and some nonprofit organizations and universities that also won big during several events held by Santander in relation to race week.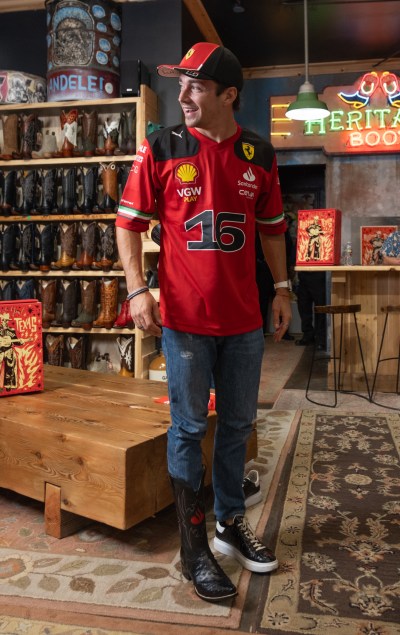 Santander announces partnerships at special event
The F1 race included two competitors and a team with Santander connections — Scuderia Ferrari and drivers Charles Leclerc and Carlos Sainz, the latter fresh off a win at September's Singapore Grand Prix. Weeklong activities building up to Sunday's United States Grand Prix added to the atmosphere with exciting announcements coming from Santander Consumer USA (SC).
At a local community retail icon, Leclerc was presented a pair of custom-made Western boots from Santander Consumer President and CEO Bruce Jackson, President of Chrysler Capital and Auto Relationships Betty Jotanovic, SC Chief Legal Officer Chris Pfirrman, Foundation VP Suzanne Massey and other Santander executive leadership.
Santander Consumer USA and the Santander Consumer USA Inc. Foundation announced $500,000 in grants and sponsorships to support higher education for students in STEM (science, technology, engineering, and mathematics) at The University of Texas at Austin ("UT Austin"), The University of Texas at Dallas ("UT Dallas"), and scholarships for support of technicians in the automotive field via the Driven to Care Fund of the Footprints Foundation.
These include:
o          A grant to establish the Santander Scholarship for Engineering and Computer Science for the support of three undergraduate students for four years each in the UT Cockrell School of Engineering Program. According to US News and World Report, UT, along with ranking seventh best engineering school in the U.S. also ranked ninth as the best university in the nation and first in Texas.
o          A grant to establish the Santander Scholarship for Engineering and Computer Science for the support of three undergraduate students for four years each in the UTD Erik Jonsson School of Engineering and Computer Science. "Santander Consumer and the SC Foundation are the type of Dallas neighbors who make the entire community better," said Dr. Stephanie G. Adams, Dean of the Erik Jonsson School of Engineering and Computer Science, holder of the Lars Magnus Ericsson Chair at UT Dallas and professor of systems engineering. "Engineering is central to the mission of UT Dallas and society at large as we prepare students to address critical societal challenges." UTD, located in one of Santander's headquarter cities of Dallas, is one of the top three public universities in Texas, according to US News and World Report.
o          A grant to fund the John Weinberger Driven to Care Legacy Scholarships Program, supporting students of need attending schools in the automotive engineering field. The funding supports auto technicians as well as auto restoration for Ferrari's Classiche program. "Supporting students who, like my husband, want to turn their passion into a career takes strong partnerships," said Lisa Weinberger, President, John Weinberger Driven to Care Legacy Scholarships. "It's a privilege to have the generous support of the SC Foundation which will help aspiring automotive professionals achieve their goals."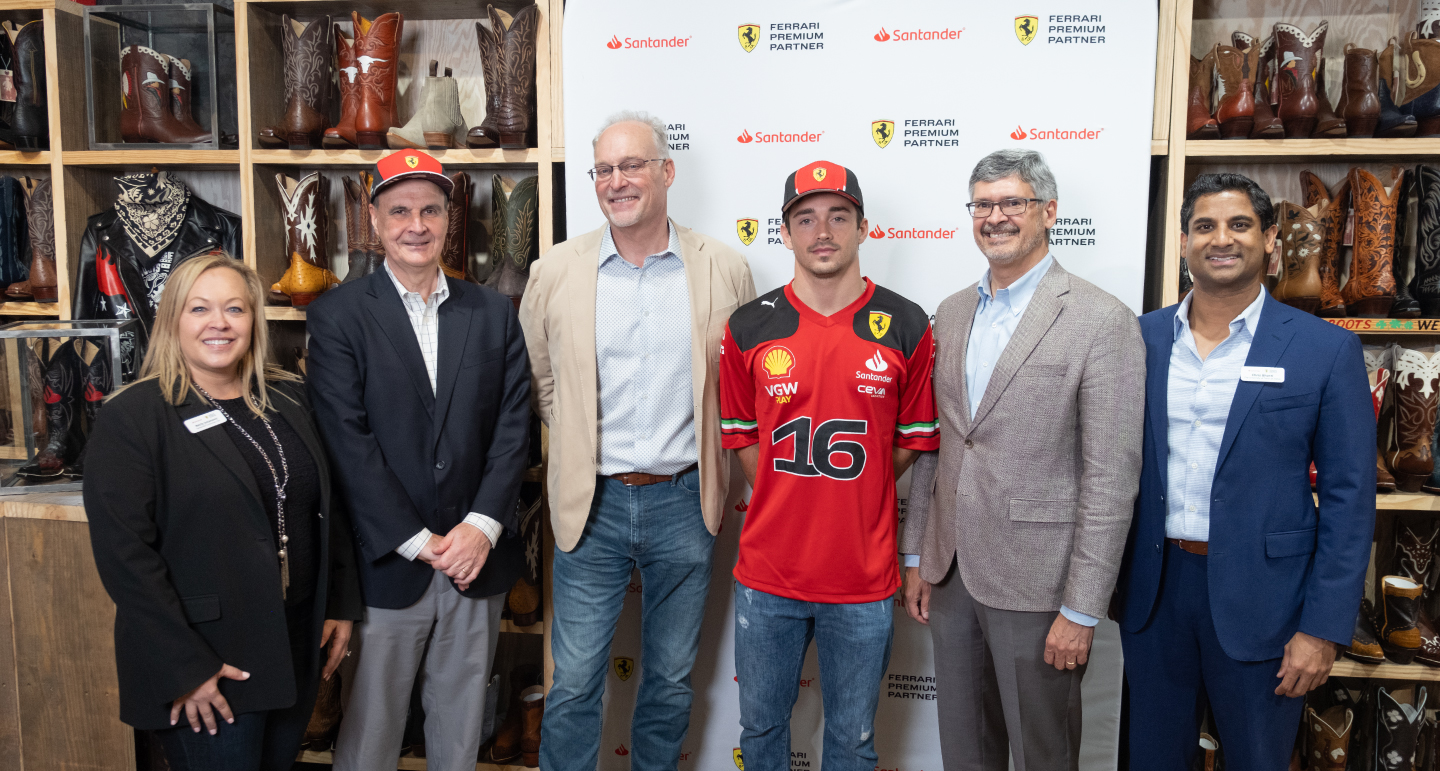 "We are thrilled to announce our new STEM grants, as part of our ongoing work to educate and inspire the next generation of engineering leaders, alongside our partners at Scuderia Ferrari," said Bruce Jackson, Santander Consumer CEO. "This commitment further advances our mission to help people and businesses prosper."
Another Santander major sponsorship and one near and dear to our hearts is the Longhorn Racing team. Made up of a team of University of Texas at Austin students, the group was in attendance showing off their latest designed combustion engine race car.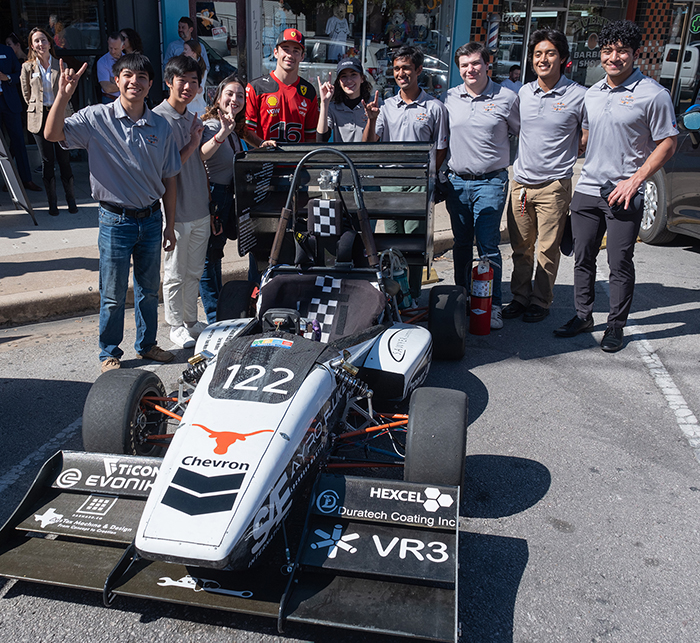 "The Cockrell School is grateful for Santander Consumer's investment in student success," said Dr. Roger Bonnecaze, Dean of the Cockrell School of Engineering. "Experiential learning opportunities like Longhorn Racing prepare our students to become leaders on campus and in the workforce, cultivating bold engineers who embrace and solve messy, open-ended problems. Longhorn Racing students lead the way in multidisciplinary collaboration on campus, working in teams across engineering, business and natural sciences—teams that aim to win."
A small group of students visited with Ferrari engineers in the pit at the track the Thursday before the race to get a behind-the-scenes look at the innerworkings of the crew.
There will be more to come as we follow these students along their paths as future engineers and professionals.
The Formula 1 season, which runs more than nine months, includes five races in North America – United States (Austin, Las Vegas and Miami), Mexico and Canada – wrapping up Nov. 26 in Abu Dhabi.
View the video below to get a glimpse of the exciting Formula 1 week and Santander's involvement.
*The F1 logo, FORMULA 1, F1, GRAND PRIX and related marks are trademarks of Formula One Licensing BV, a Formula 1 company. All rights reserved.