Even two volunteers can make a difference.
That's what Kelli C. and Amanda B., Santander Consumer USA (SC) associates, learned when they helped about 20 high school students recently at "visioning day" for a Dallas bus stop art project.
Students from Lake Highlands and Lincoln high schools, located in Richardson and Dallas school districts, respectively, worked on creating vision boards for Bus Stop Project art that would be completed by a local artist for a bus stop near Lake Highlands High School.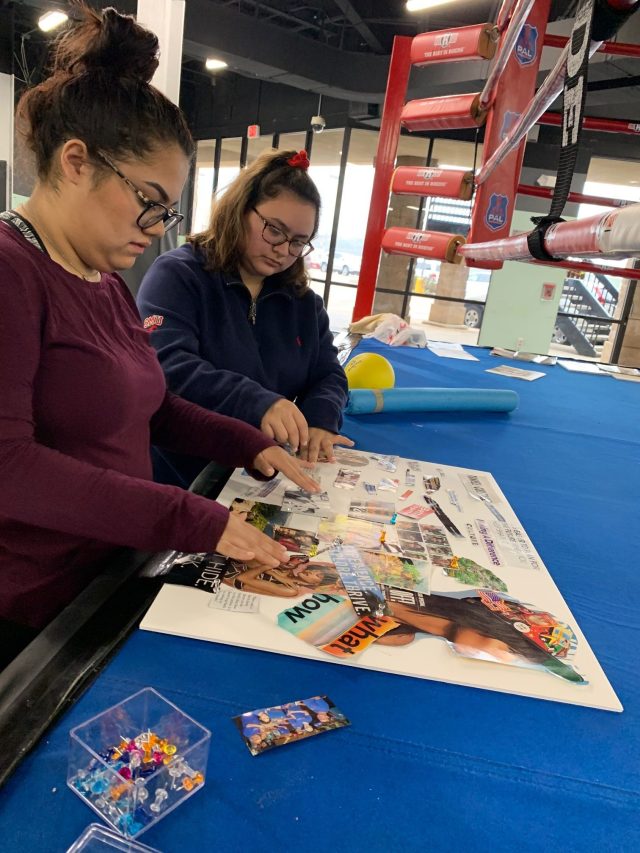 "Together, we develop art that tells the stories of Dallas neighborhoods, as seen through the eyes of the students, and then the art is permanently installed in a DART bus shelter," an organizer explained. Volunteers are assigned to small student groups and lead discussions "about the students' experiences in the neighborhood, history of the community and hopes for the future."
Ultimately, the artwork will be installed permanently in bus stops "for patrons to see and celebrate."
"I guided students through visioning activities – Q&A sessions, vision boards – to help drive the overall ideas for the art piece," volunteer Amanda B. said of the experience. "One of the most meaningful and enlightening parts of this activity was hearing directly from the students about their personal life experiences with the area – the good and bad – and listening to the brilliant ideas they had on how to bring a sense of pride, safety and community to that [bus stop] location."
A second session, again involving SC volunteers, is scheduled for February, and the artworks are expected to be unveiled in March. The Bus Stop program was one of more than two dozen recipients of SC Foundation grants that totaled almost $2.2 million in 2019 in Texas, Arizona and Colorado.
Santander Consumer, which shattered by nearly 5,000 hours a 20,000-hour goal for community volunteer activity in 2019, has encouraged associates to get involved with grant recipients.
"Volunteers really are the glue that holds the Bus Stop Project together," said Ashley Flores, Bus Stop Project chair. "They facilitate our Art Visioning Days, meaningfully connect with students and help us realize the vision of public art that tells the story of the surrounding community."
"Santander Consumer has been an incredible partner in this work … SC volunteers have been great advocates for and collaborators on the project, and we are grateful for their engagement."
As in most cases, the volunteer activity seems to affect the volunteers nearly as much as recipients.
"This experience with high school students really impacted me," said volunteer Kelli C., who explained that some but not all of the students lived in the area. "These students were from all walks of life and had the most positive attitudes … Their vision for the community was very inspiring."
The project is a collaboration of the Mayor's Star Council (and affiliated Rising Star Council, which involves Dallas area high school students), Dallas Area Rapid Transit (DART), local artists, and others, as well as a community sponsor – in this case, the Santander Consumer USA Foundation.