The impact of COVID-19 will be felt long after life returns to normal.
That normal for some may be a matter of getting back to work and catching up on overdue bills resulting from financial challenges suffered through no fault of their own.
During the initial stages of the health crisis, Santander Consumer USA (SC) helped customers who needed assistance, deferring payments – moving a payment to the end of a loan – waiving late charges and providing lease extensions for customers unable to return their leased vehicles. Ultimately, SC approved COVID-related extensions for at least 730,000 customers.
And the way in which SC treats its customers didn't go unnoticed by those who needed help.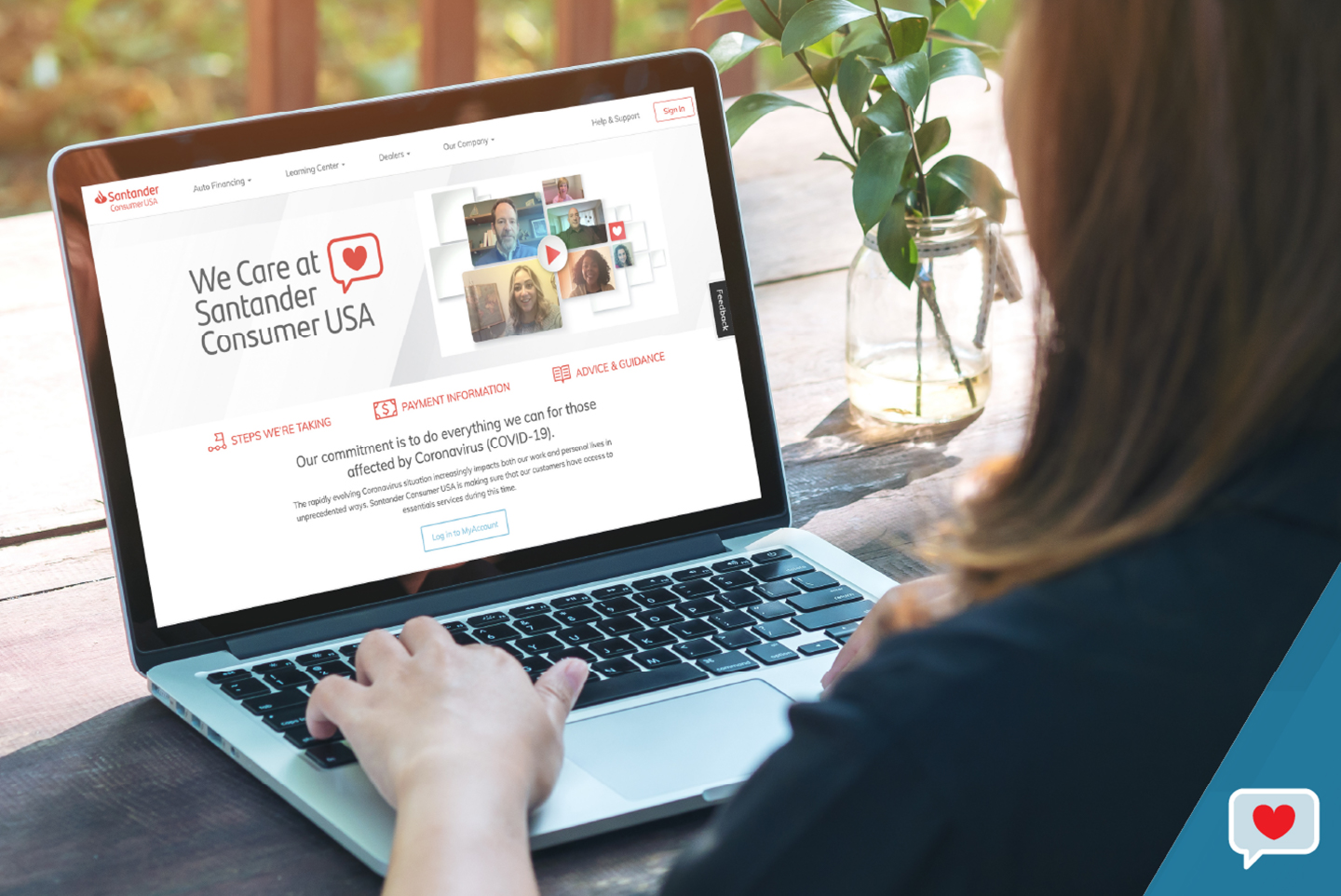 "After explaining that I recently lost my job due to COVID, [the customer service associate] was compassionate and understanding in a time when I really needed it," said customer Shannon C., who called SC earlier this year. "She worked quickly to see if there was any way that Santander could help me during this time, and I'm very grateful for that."
"I was stressed about making my payments and not working during the pandemic. [The customer service associate] was very empathetic to my situation, and she made some wonderful suggestions. I felt so much better after speaking with her," said another customer, Yolanda C.
Now, many of those customers face the challenge of catching up on their payments.
"We always want to be understanding and respectful to our customers, especially as they work through the impact of COVID-19," said Lori Millard, senior director of Servicing at SC. "That includes providing them information that will be helpful in getting back on track financially as the impact of the virus hopefully passes."
And that begins with taking time to improve your knowledge or taking other actions that put you in a better position to manage all your finances, not just your car payment
For helpful information on money management, visit Santander Bank's Prosper and Thrive website.
How to stay on track
with Santander Consumer USA
Here are some tips and resources to help you get back and stay on track:
Manage your account online
Manage your account online 24/7 from any connected device by signing up for MyAccount following simple step-by-step instructions on our website, SantanderConsumerUSA.com.
Your account access enables you to:
Log in from any device
Make a payment
Get your payment history and due dates
Sign up for paperless, electronic statements
Obtain payoff information
Update your account
Make a Payment
Please be aware that SC customer service agents no longer are able to accept payments over the phone at this time, so please use one of our self-service options:
Make an ACH or debit card payment on our website, MyAccount.SantanderConsumerUSA.com or through our interactive voice system. Additional fees may apply.*
Enroll in our Auto Pay program in which your monthly payment will be electronically drafted directly from your checking/savings account. Complete enrollment by logging in at MyAccount.SantanderConsumerUSA.com.
Mail your payment to Santander Consumer USA, P.O. Box 660633, Dallas, TX 75266
For additional payment options, visit santanderconsumerusa.com/support/payments. Additional fees may apply.*
* A third-party payment processing company may charge a fee to process your payment
Other self-service options are available through MyAccount, where you can manage your account using online tools – live chat, make a payment, get your payment history and due dates, obtain payoff information or update your account information.
For other questions, please look for answers in the FAQ section of our website.