The list of least fuel-efficient cars is a who's who of luxury vehicles.
Not that most of us will ever have to worry about our Lamborghini Aventador Roadster getting only 12 miles per gallon combined (10 MPG road, 17 MPG highway), but we can dream, right?
The two-seater exotic – a "jaw-droppingly quick," 6.5-liter, 12-cylinder automobile that a Digital Trends online review compared to a Lockheed Martin fighter jet – is at the bottom of the U.S. Environmental Protection Agency's ratings of 2016 models' fuel efficiency.
But, if you can afford the $400,000-plus price tag, you probably aren't worried about fuel costs. The same goes for the 13 other cars across seven additional EPA classes.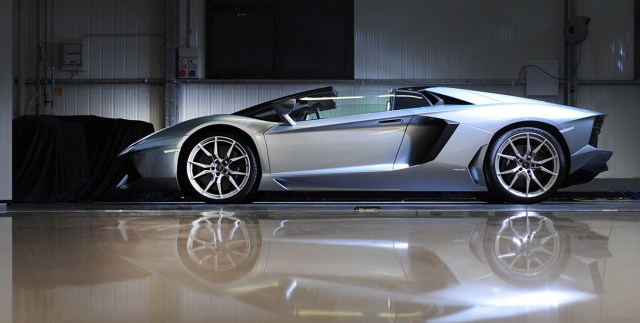 Also among the most inefficient cars are three midsize vehicles tied at a 13 MPG combined mileage – the Bentley Mulsanne V8 turbo and two Ferrari FF 12-cylinder models. All three get a paltry 11 MPG city and 17 or 18 MPG highway, although paltry may not be the right word to use in this context.
Other fuel-guzzlers on the EPA list, along with their vehicle class and MPG, are the Rolls-Royce Phantom coupe and drophead coupe (compact), and Rolls-Royce Phantom and Phantom EWB (large car), all 14 MPG; the Bentley Continental GT and Maserati Gran Turismo convertibles (subcompact) and Aston Martin DB9 (minicompact), all 15 MPG, and Mercedes-Benz AMG E63 (wagon), 18 MPG. Two Infiniti QX50 models (small station wagon), 20 MPG, are the most fuel-efficient of the lot.
Even if the cars here are not affordable for most of us, at least the ratings list is entertaining.
Trucks, SUVs and minivans obviously are a different story price-wise than the exotic cars in that many of us can afford them, but their fuel efficiency is similar.
All 16 vehicles across five classes come with lower fuel mileage than the Infiniti QX models above – ranging from the least-efficient Mercedes-Benz G550 and AMG G63 standard SUV models, 13 MPG, to the Kia Sedona SXL minivan at 19 MPG – but better than, well, the Lamborghini.
Between are five standard pickup trucks – four Toyota Tundra models and the Ram 1500 – all at 15 MPG, the Nissan Frontier small pickup at 17 MPG, and seven small sport utility vehicles – four Jeep Wranglers, Chevrolet Equinox, GMC Terrain and Infiniti QX70 – all at 18 MPG.
These vehicles may not be the stuff of Lamborghini dreams, but at least you can cart around your stuff.
And if you want better fuel mileage, check out the EPA's complete ratings. Comprising almost 2,500 vehicles in 13 classes, they are available online at fueleconomy.gov.
RELATED
Vehicles that go the distance based on EPA fuel-efficiency ratings