The Ford Mustang name is about as iconic as it gets.
Since the Mustang debuted in 1964, it has come to represent "the best of the American spirit" and has become one of the best-selling sports coupes in the world – more than 10 million.
But the automaker thinks the new Ford Mustang Mach-E, with a base price around $44,000, is a sport utility vehicle whose time has come, as the iconic pony gallops into an electric future that seems destined to leave the traditional sports coupe in the dust.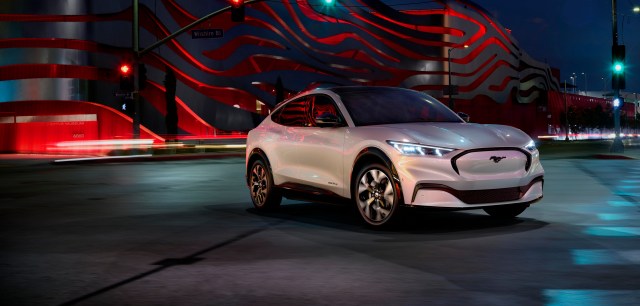 "At the first-ever Detroit auto show, Henry Ford said he was working on something that would strike like forked lightening," said Bill Ford, executive chairman of Ford. "That was the Model T."
"Today, the Ford Motor Company is proud to unveil a car that strikes like forked lightening all over again. The all-new, all-electric Mustang Mach-E. It's fast. It's fun. It's freedom. For a new generation of Mustang owners," Ford said at the news conference in Los Angeles, CA, announcing the new model.
Buyers will have to contain their excitement, however, since the first models won't be available at all until late 2020 – a special edition priced at nearly $60,000 and premium version at more than $50,000. The basic Mach-E and GT performance models won't arrive until spring 2021.
When the five-passenger electric vehicle (EV) finally does arrive, it will be available with standard and extended-range battery options with a top estimated range of more than 300 miles, Ford said.
In addition to multiple home charging solutions, the Mach-E also will help route owners to nearby public charging stations, recommending where to charge on trips, and provide access to more than 12,500 public stations in Ford's charging network, the largest in the country.
But the Mach-E doesn't sacrifice other desirable qualities for electrification, Ford said.
"The Mustang Mach-E wholeheartedly rejects the notion that electric vehicles are only good at reducing gas consumption," said Hau Thai-Tang, the automaker's chief product development officer. "People want a car that's thrilling to drive, that looks gorgeous and that can easily adapt to their lifestyle – and the Mustang Mach-E delivers all of this in unmatched style."
Developed in a century-old brick building a few blocks away from Henry Ford's first factory in Detroit, the Mach-E came to life "through a development process concentrated on customer needs and desires."
Ford compares some characteristics of the Mach-E to the Porsche Macan and Porsche 911 GTS.
Still, Fortune magazine called the Mach-E a Radical Gamble on an Electric Future, while noting that "the galloping horse on the vehicle's grille is one of the few things in common with its predecessor." But it's a gamble Ford appears willing to take with slipping sales of sport coupes and rising EV sales.
Of course, car buyers like you will decide whether Ford's Mustang Mach-E gamble ultimately pays off.