The truth about Americans' favorite vehicle colors is there in black and white.
Truly.
"If you drove down an American street and looked only at the new vehicles, you might be forgiven for thinking you're in a black-and-white movie," Volkswagen observed.
That viewpoint finds backup in a report by Axalta, a leading supplier of liquid and powder coatings.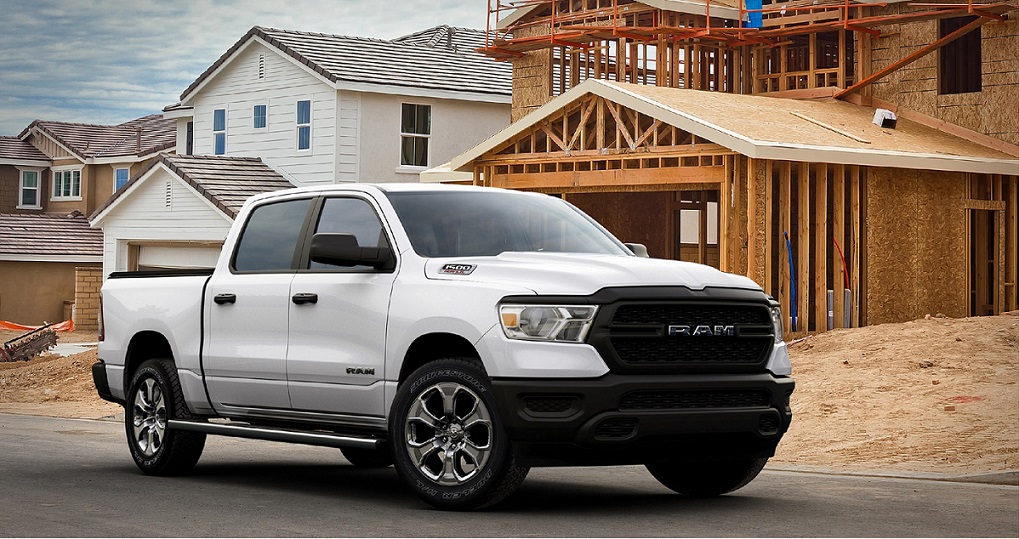 Photo credit: FCA US via Newspress USA
This 2021 Ram 1500 Tradesman HFE EcoDiesel is available, of course, in white.
U.S. car buyers chose white, silver and black, in that order, more often than other colors in 2020, said VW. "That's been the trend for a decade, part of a longer evolution toward muted shades in automotive exteriors that … one that Volkswagen experts see as likely to continue."
And what's true in America largely is true worldwide.
Axalta's annual global color popularity report recently revealed that "the most common automotive colors on the road today are white (38%), black (19%) and gray (15%)." Axalta ranks silver fourth at 9% among the most frequently purchased automotive colors globally.
"That means more than four out of five cars made in 2020 are black, white, or somewhere in between," said Axalta, which referred to so-called grayscale as a "pandemic among cars." Despite a limited color palette, America still is a bit more colorful than the global average, Axalta said, with about 23% of vehicles bucking the black-and-white trend compared to 19% worldwide.
And the silver lining might not be just in the current range of popular vehicle colors.
Market demands for black, white and monochromatic shades in between will continue, said Jung Lim Park, Volkswagen senior color and trim designer, but consumers are showing an increased appetite for returning to brighter and bolder colors.
"The news isn't all bleak," Axalta agreed. "Blue is trending, while silver is on the decline. And Axalta's own color of the year is Sea Glass, a green-blue shade inspired by bodies of water."
For now, though, local parking lots may continue to resemble a formation of "Star Wars" stormtroopers.
"Color design is complicated and depends on the design of the car, type of the car, the size of the car and also types of trends that project on certain demographics and lifestyles," Park explained. "Understanding the desires of the customer goes hand in hand with selecting colors that complement the vehicle's body style and influencing industry color trends."
"Color is always shifting, and our color perception is always evolving depending on what we see, what we observe, and what we live with," said Park. "The future is getting colorful, for sure."