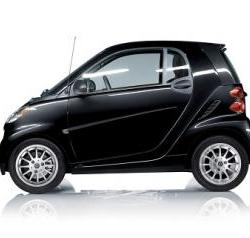 The following post originally appeared on our RoadLoans blog, The Open Road.
So you think the interest rate on your current auto loan is too high?
Lenders and financial experts have an answer for that. It's an auto loan refinance, and it works just like refinancing your home mortgage loan to take advantage of lower interest.
"If you are feeling stuck with a high interest rate car loan that you really cannot afford, you should consider refinance," according to RoadLoans. "Despite what you might think, auto loan refinance is a quick-and-easy process. It is not as complicated as refinancing a mortgage."
With an auto loan refinance, you may pay off your "existing high-interest auto loan with a new lower-interest loan," which means you will save money by making lower monthly payments. Wrote Colin Bird of Cars.com recently in a story posted at chicagotribune.com:
"Refinancing involves transferring your car's title from one creditor to another. … If your credit score improves, even by just 50 points, you should refinance the auto loan." Adding that if interest rates have come down since you purchased your car, "refinancing is a prudent option."
What kind of consumer should consider refinancing, according to Edmunds.com?
• The Saver, who keeps an eye on interest rates that could improve personal finances, or whose credit score has improved enough to qualify for a loan with lower rates.
• The Newly Educated Remorseful, who discovers that he/she is paying a higher interest rate when a lower rate is available.
• The Budgeter, who may have purchased a car on a short-term loan but now wants to stretch payments out because his or her economic picture has changed.
• The Lessor, who wants to keep a car at the end of a lease – a "buyout" in which the customer actually purchases the car and establishes a loan with continuing payments. Lenders are eager to help consumers take advantage of the refinancing opportunities.
For example, RoadLoans.com says:
"In just minutes, you can apply for refinancing using our easy online application form. There are no application fees, and you will be notified almost instantly if you have been approved. Even if you have less than perfect credit, it is possible to refinance."
"The refinancing of my vehicle with RoadLoans.com was like using the easy button," wrote customer Marilyn L. "I applied from the comfort of my own home, downloaded the forms, and once approved, signed my papers. My monthly payment dropped by almost $50."