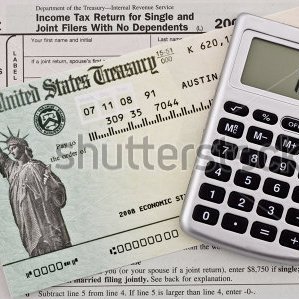 For many Americans, a tax refund = a new car.
More than 100 million Americans are expected to receive tax refunds averaging $3,034 this year, and two surveys of consumer intentions suggest car purchases are high on their shopping lists.
GOBankingRates, an interest rate aggregator, said 25 percent of Americans plan to buy a new car with tax refunds that are "potentially enough to cover the down payment on an auto loan," according to a post on the Kicking Tires blog, "Cars Rank High Among Tax-Refund Purchases," at Cars.com.
"The average tax refund is equivalent to a 20 percent down payment on a $15,000 auto loan. Combined with today's very low interest rates, it is a great time to buy a car," Casey Bond, GOBankingRates managing editor, said in a statement about the survey results. "In fact, qualified buyers can expect to find a three-year loan around just 3 percent. Three years ago, you'd pay double."
The average tax refund could cover the typical 11 percent down payment for a $30,000 vehicle or make a significant dent in a year's worth of monthly car payments.
In another survey, used-car retailer CarMax found that more than 16.5 percent of those expecting a tax refund are likely to use it toward the purchase of a car, said the Kicking Tires post. That's up from about 14 percent who reported spending their refunds on a car last year.
The CarMax study states that among that group, those most likely to purchase a vehicle with their refunds are younger than 35 (29 percent), parents (26 percent) and residents of the South (22 percent).
But GOBankingRates and CarMax aren't the only sources that link tax refunds to car purchases.
"Based on the info in [an] eBay Motors survey, Americans appear to view tax refunds as opportunities to make purchases of vehicles associated with the joys of driving," wrote Keith Griffin in a recent report, "Use Your Tax Refund to Buy a Used Car," at About.com.
If you are one of the millions planning to spend your tax refund on a new or used vehicle, check out our infographic, "Tax Returned – How You Can Use Your Income Tax Refund to Get a New Car" on the Santander Consumer USA blog. SCUSA provides lending through Santander Auto Finance via 14,000 car dealers nationwide and through its RoadLoans, direct-to-consumer product.