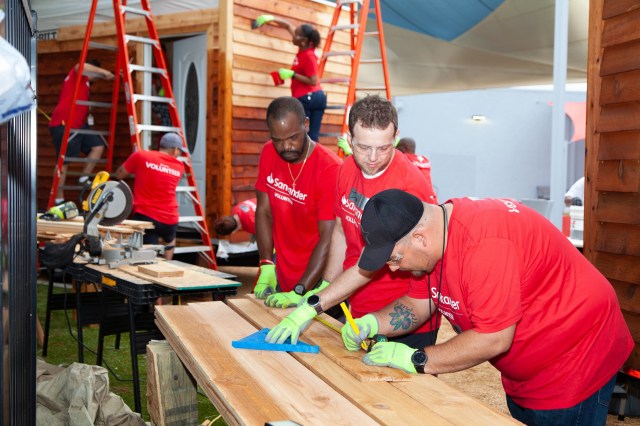 It takes big hearts to build tiny houses for veterans.
That was never truer than volunteer efforts at the North Richland Hills, TX, call center of Santander Consumer USA (SC).
About 85 SC associates from 15 departments at the NRH facility took turns in several two-hour shifts over two days to help finish two houses for North Texas Capacity Builders (NTCB)/Operation Tiny House.
The tiny houses finished at NRH will be used at Joanna's Veterans Camp in Dallas to provide transitional and permanent housing to homeless North Texas veterans, and provide temporary housing to veteran homeowners while their homes are under construction, repaired or rebuilt.
RELATED
Sharing time, caring goes a long way at North Texas Food Bank
'Starving Children' mission gets boost from SC volunteers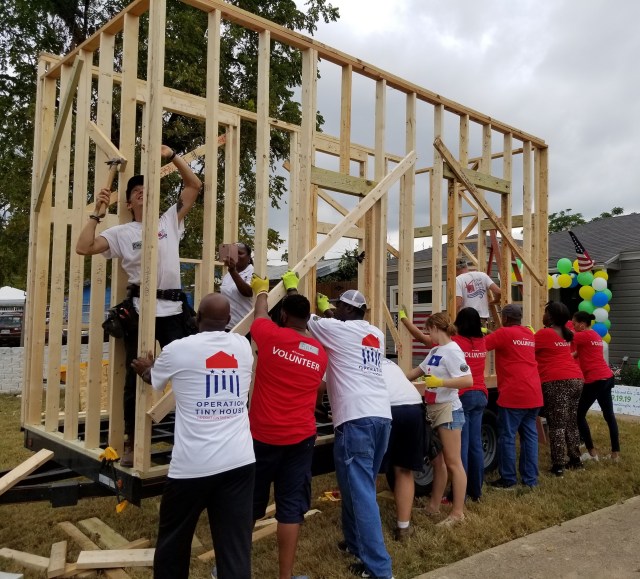 Working in the NRH courtyard, the volunteers installed cedar wood siding, stained siding and decks, and interior paneling on the houses, which are among 52 NTCB is building.
"We are free to live in this beautiful country of ours because of the men and women who have fought and died for America – without them there would be no freedom," said Barbara S., an SC volunteer. "I was honored to have been involved in the Tiny House project … I am excited to know that there is an organization that will build homes for the veterans without a place to live."
"Knowing that I can help in a small way to help the homeless is gratifying," added volunteer Nancy B. "Plus now I have a bit more knowledge. I absolutely loved it!"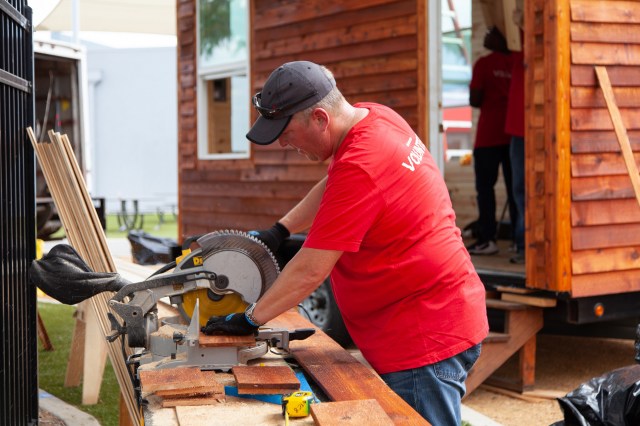 "It was good to take some time to help build the house, knowing it would help someone in the future," added Michael A., another SC volunteer.
The effort was part of SC's Volunteer Paid Time Off (VPTO) program which has provided charitable organizations in North Texas, Arizona, Colorado and elsewhere more than 13,000 hours of assistance so far this year and about double that since its inception almost two years ago. The company expects thousands more volunteer hours will be logged by the end of the year.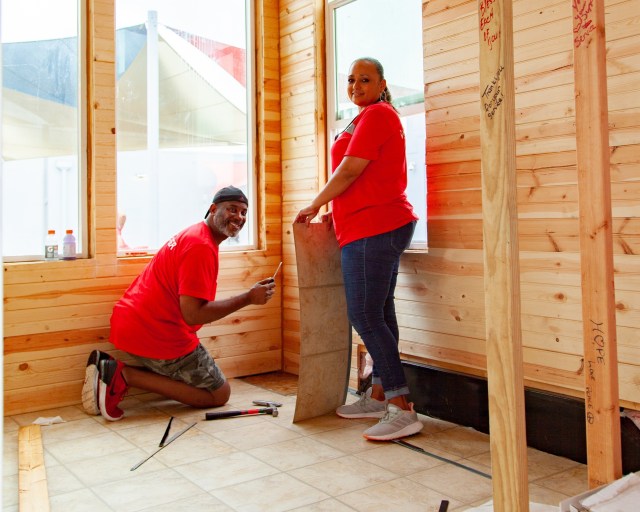 "It makes me very proud to say that I work for a company like Santander Consumer that will sponsor an activity like this one," said Barbara S., referring to the company's VPTO program.
Volunteer Margaret S. offered a strong personal perspective on building the tiny houses at NRH.
"My father was in the U.S. Navy for over 20 years, and my whole life was military, so any time that I am able to give back to those that serve and protect us I do so with pride," the SC volunteer explained. "I very much enjoyed helping make someone a home."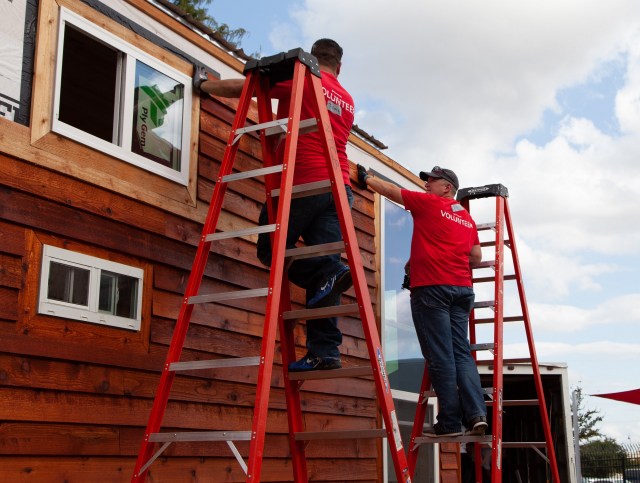 Another volunteer, Ryan H., a U.S. Navy veteran who previously built his own tiny house in Idaho, helped on another build in mid-September with about two dozen associates from SC's Thanksgiving Tower headquarters, and then helped again at NRH.
"When the opportunity came up to contribute to a tiny house build here in Dallas that would benefit homeless veterans, I jumped at the chance," said the veteran. "The organizer needed people with experience in the building trades, which I was happy to provide … I appreciate the service that all veterans have performed, so I feel they are particularly deserving of a second chance."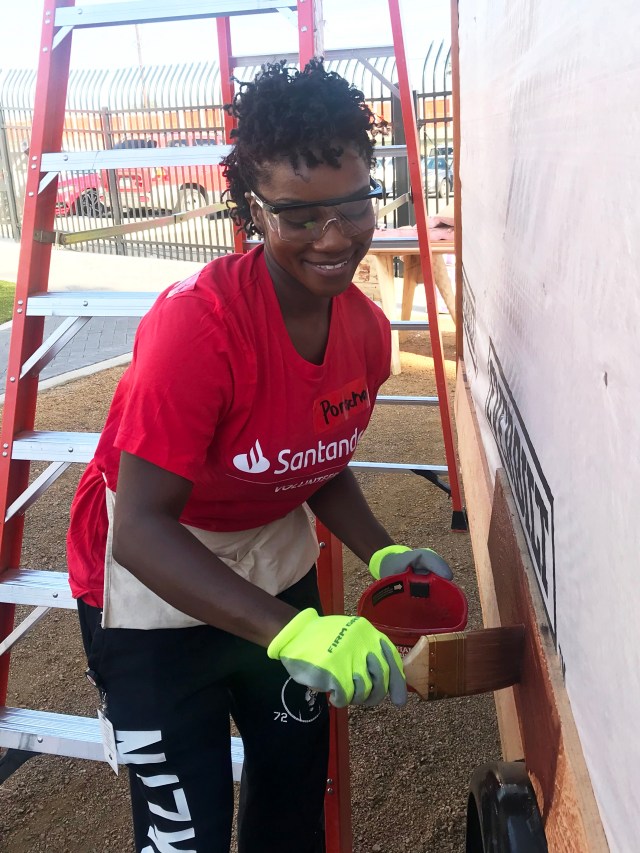 "Having volunteers from Santander Consumer USA be a part of the building process is vital to our success," said Valerie Ballard of NTCB and Operation Tiny House. "Being our building partner is extremely valuable, because it saves on some financial costs while allowing volunteers to show our veterans they value them and the commitments they've made to our country."
"The overall impact changes the lives of veterans who are experiencing homelessness and the volunteers who are amazed and proud of giving back to our veterans."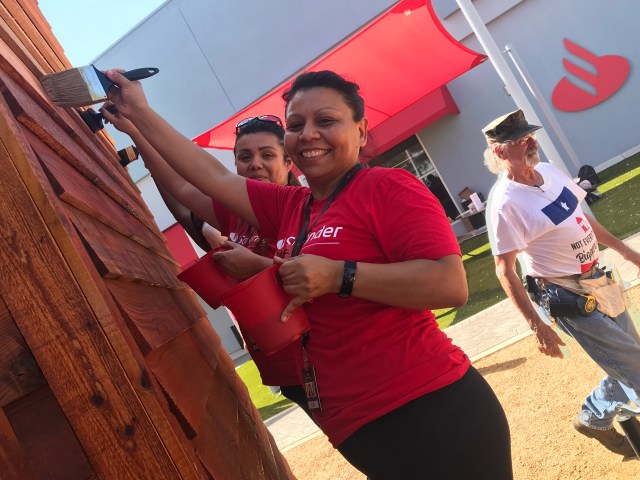 Other volunteers felt the same personal military connection volunteer Margaret S. expressed.
"Having family and friends that were and still are in the military hit me close to home," said volunteer Brittany D. "I think about how many veterans are on the streets because either there are not any jobs or their medical issues keep them from getting a job and it upsets me."
"To be able to build a home for some of them warms my heart," she said. "I love what the people from Tiny House are doing and pray that they get the support and donations they need to keep going."
"It was such an unbelievable opportunity to get my hands dirty again, to create something out of nothing," said SC's Mariaregina P. "I forgot how much I enjoyed using a table saw, the smell of fresh sawdust, especially cedar, and the sound of a nail gun."
"It was so fulfilling to view the tiny house knowing that its design and concept is to meet the need of the most deserving, a homeless veteran," said the former architecture student.
"It was my honor and my pleasure to put love and care into this particular project," said volunteer Aaron L. "In reality, it's a home for a dad, brother, son, uncle or cousin I may never meet. I felt proud to be a part of this project, and trust that the new owner can feel the care our SC family contributed."