Jeep® Wranglers are at the top of the heap when it comes to vehicles that lost the least value after five years, according to a study by iSeeCars.com's Karl Brauer. The top two vehicles are the Wrangler and the Wrangler Unlimited, which had an average value loss of 7.3 percent and 8.7 percent. That's about four times lower than an average vehicle.
"The Jeep Wrangler continues to embody the ultimate off-road companion, with timeless styling that keeps it popular long after it has left the new-car showroom," said Karl Brauer, Executive Analyst at iSeeCars.com.
Brauer's research reviewed more than three million five-year-old used cars sold in 2022. He found the average five-year-old car only lost 33.3 percent of its value from the manufacturer suggested retail price (MSRP).
These are the top 10 vehicles that lost the least value in a five-year period. The chart also shows how far they ended up from their MSRP.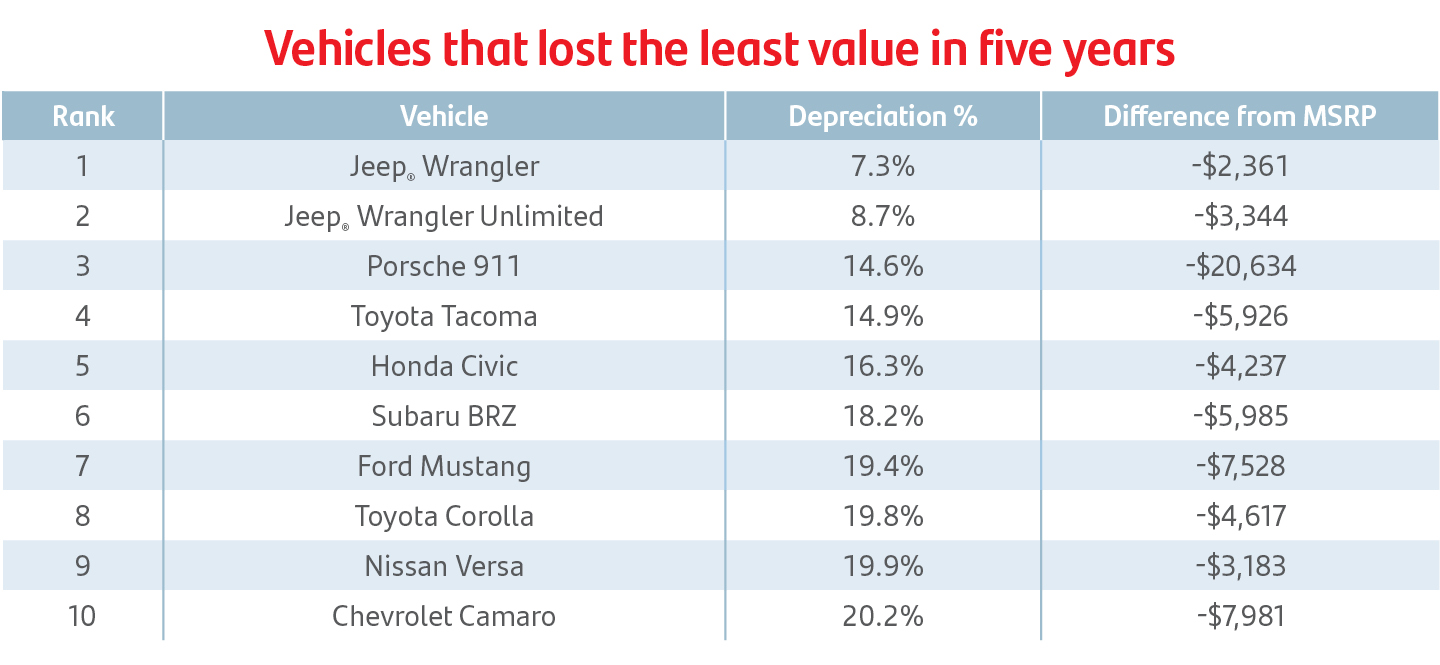 Sports cars saw more demand during the pandemic. "We saw prices jump for sports cars after the lockdowns began, and they maintained their strong original value even as restrictions were lifted," said Brauer.

Rounding out the top five are brand favorites like the Toyota Corolla, Nissan Versa, Honda Civic and the Toyota Tacoma. The first three are compact cars that get lots of gas mileage, and the Tacoma has a reputation for being durable.

The next group shows that small cars are on pace with small SUVs when it comes to losing value over time. With an average loss of value over five years sitting at just 24.2 percent, small cars are vehicles that appear to hang onto their value.

And rounding out the last group, we have full-size trucks. Full-size pickup trucks average 31.8 percent value loss over five years. The Toyota Tundra sits at the top of this group with the Ford F-150 and the GMC Sierra 1500 coming in second and third place. Both the Nissan Titan and Nissan Titan XD came in sixth and seventh on that list.