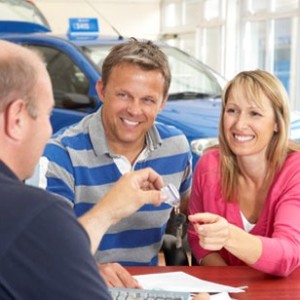 If you're looking for a new vehicle, then chances are you also are or will be looking for vehicle financing. It's just a fact of life for most people.
And it probably is your goal to land vehicle financing without breaking the bank.
"If you're like most people, paying cash to buy a new car just isn't in the realm of possibility," writes Lee Ann Obringer in an article "How Car Financing Works" online at howstuffworks.com. "And even if it's in the realm, you may not want to deplete your savings account to buy a new vehicle. This means that you're either going to be leasing the car, or buying the car by financing it."
Here are three key tips from Cars.com that shoppers should remember when looking for vehicle financing:
Compare interest rates (APR) at banks, credit unions and online-only lenders, and ask about fees and early payoff calculations. When you've found the best outside loan, apply and get preapproved. Then visit the car dealer with a check in hand to cover the purchase.
Don't be afraid to explore vehicle financing available at the dealer or from the automakers' captive finance companies to see if they're offering lower interest rate incentives.
If you realize after the fact that you got a bad car financing deal, seek an auto loan refinance.
"If you have excellent credit and you know it, you can usually get the best financing rates right from the dealership, who serves as a broker for multiple lenders. With great credit you may qualify for incentive 0 percent APR or other low financing rates," reported the website moneyunder30.com in a recent article.
"(But) if your credit is only average – say less than 700 – you can benefit getting some loan quotes before you hit the dealership. You may be able to use the pre-arranged financing as a bargaining chip with the dealership's finance and insurance (F&I) manager and score an even lower interest rate."
And even if your credit is "sub-prime," don't let it discourage you from seeking vehicle financing. Some lenders, such as RoadLoans, a trusted lender of Cars.com, specialize in providing credit to the sub-prime market.
"Bad credit car loans are financing options that are specifically designed to suit people that have less than ideal credit," says CarsDirect website. "Just because you have a low credit score or have not built up enough credit, it does not mean that you should be prevented from borrowing money to buy a car."
The higher your credit score, the more options you will have available to you with your vehicle financing, such as higher loan amounts and better interest rates, according to RoadLoans.