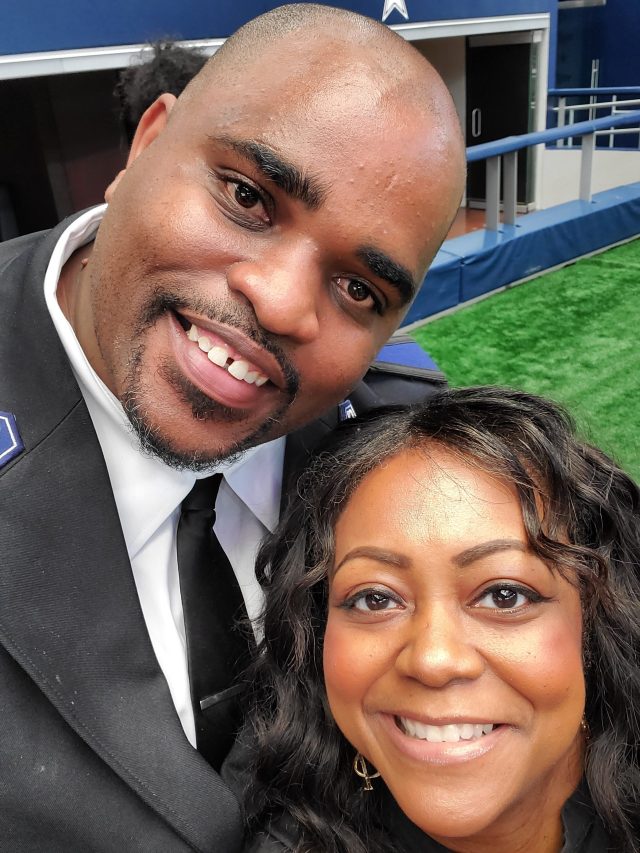 It's not often someone can boast about having been on the field at AT&T Stadium with Dallas Cowboys Emmitt Smith and Daryl "Moose" Johnston.
But that's just what happened for volunteers at the Salvation Army's recent Inspiring Hope Luncheon.
The group from Santander Consumer USA (SC) was there to help host the event for about 1,300 Salvation Army supporters and volunteers – which included handing out Johnston-autographed footballs to those attending the event.
But helping, of course, was first and foremost on their minds.
"The Salvation Army holds a special place in my heart," said one volunteer, Kyshia G. "I love the values the organization stands for and all the programs offered to children, families and adults."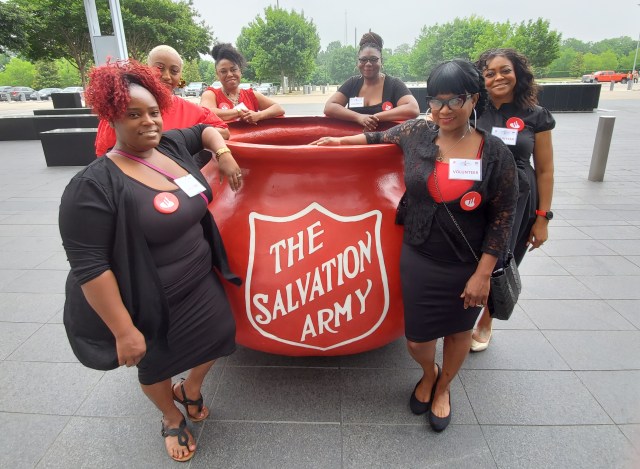 "It's often said that any help, no matter how small, makes a difference – even something as simple as greeting someone," said volunteer Tyieka H.W., who, like the other volunteers, used volunteer paid time off (VPTO) provided by the company. "The experience of teaming up with people from different organizations that chose to spend their time volunteering and working together for a common goal, which was to help raise money for the organization, was quite an experience."
RELATED
Making a difference takes many shapes for Santander Consumer, volunteers
Smith and Johnston, members of the Cowboys Ring of Honor, spoke at the event, but the featured guests included youngsters who participate in Youth Education Town (YET) for underprivileged children operated by the Salvation Army of Arlington-Mansfield, TX. YET is located at the Salvation Army's Family Life Center, which houses homeless families making the transition to a stable lifestyle.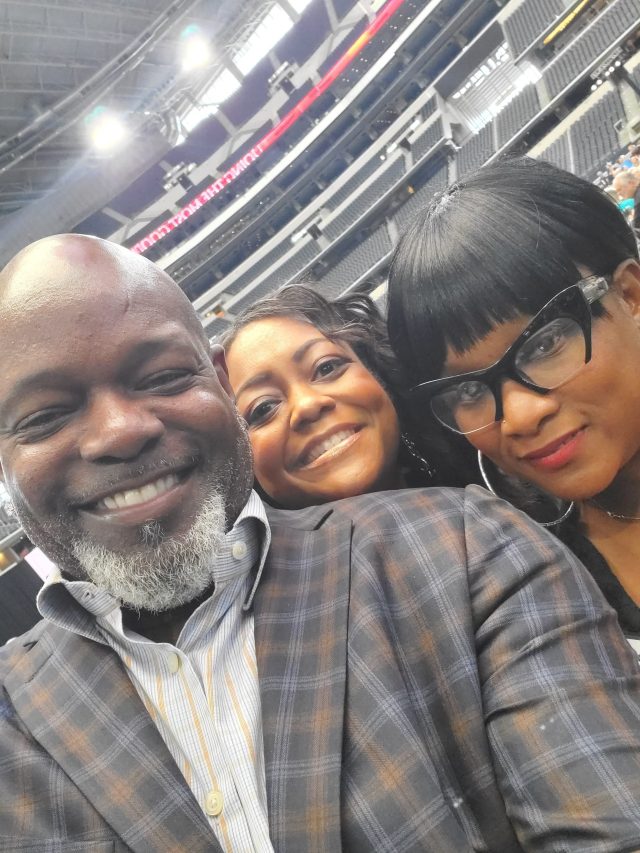 "The joy of meeting and seeing the smiles from YET kids was an astounding experience," said Tyieka.
"The stories of how this organization has helped people time after time with life changes that some people were unable to control has life lessons to share with younger generations," said Monique B.J.
"It was a privilege to volunteer at the luncheon," said SC's Sophia C. "I enjoyed hearing the stories of others and how the Salvation Army is all about providing comfort and opportunities for success. … Also, I got to take a picture with Emmitt Smith, so there's that."
As excited as the SC volunteers were to meet the former Cowboys stars – Smith also is an NFL Hall of Famer – Kyshia kept that part of the experience in perspective.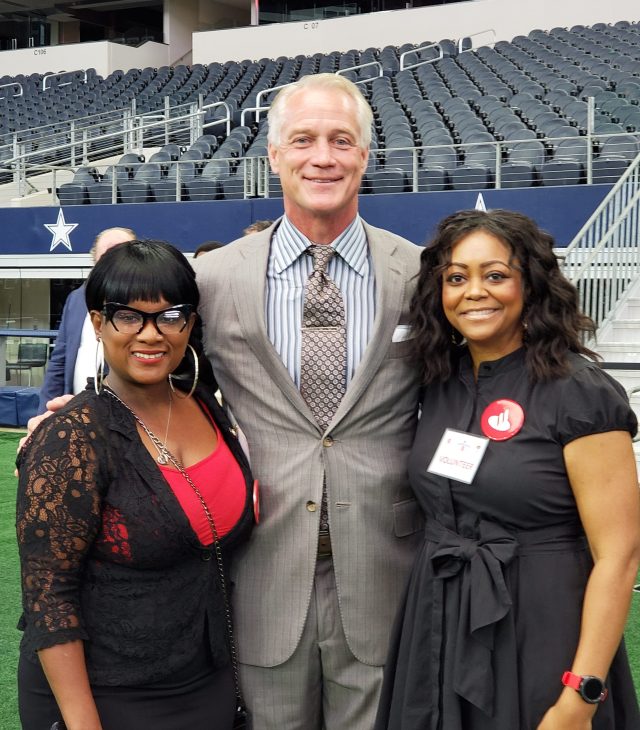 "I was able to speak with several of the Salvation Army employees, many of whom have benefited from the organization's programs and decided to work for them in return. One gentleman, in particular, Hollis, was in the Salvation Army's drug rehabilitation program. Once he graduated from the program, he decided to give back and now works with families as a counselor with the YET program."
"We are incredibly grateful for the Santander employees who volunteered – the event would not be possible without volunteers' generous gift of time," said Bridget Lenhardt, events and volunteers supervisor from the Family Life Center & Youth Education Town.
"It's so wonderful to work for a company that allows paid time off to volunteer during business hours, doing the things that you love and normally would do for free, unpaid," Kyshia said.
"I'm very excited that SC provides the opportunity to pay it forward to our community," said Tyieka.
SC employees have volunteered about 20,000 hours since the program began.