Digital inclusion. With over 14 million households in the U.S. without access to the internet, the problem for how to bridge the digital divide is a significant issue, and one Santander Consumer USA is passionate about addressing.
January 2022 marked the beginning of a $35 million multi-year grant from the Santander Consumer USA Inc. Foundation aimed at closing the digital divide through a variety of different avenues and collaborations with community groups.
Launched on Martin Luther King Jr. Day in 2022, thanks to a partnership between Santander Consumer USA Foundation and nonprofit Compudopt, hundreds of under-resourced youths and families received laptops at a drive-through distribution event supported by both organizations.
The program began in Dallas with an initial $7 million investment to bring free, reliable high-speed internet for up to 10,000 student households in Dallas and has since been expanding to other communities to eventually distribute a total of 7,500 laptops per city. The initiative will connect student households below the 200% federal poverty level with computers, free high-speed internet access, bilingual help desk support and digital literacy training. In Dallas, Santander Consumer USA volunteers are also providing in-person trainings in Spanish.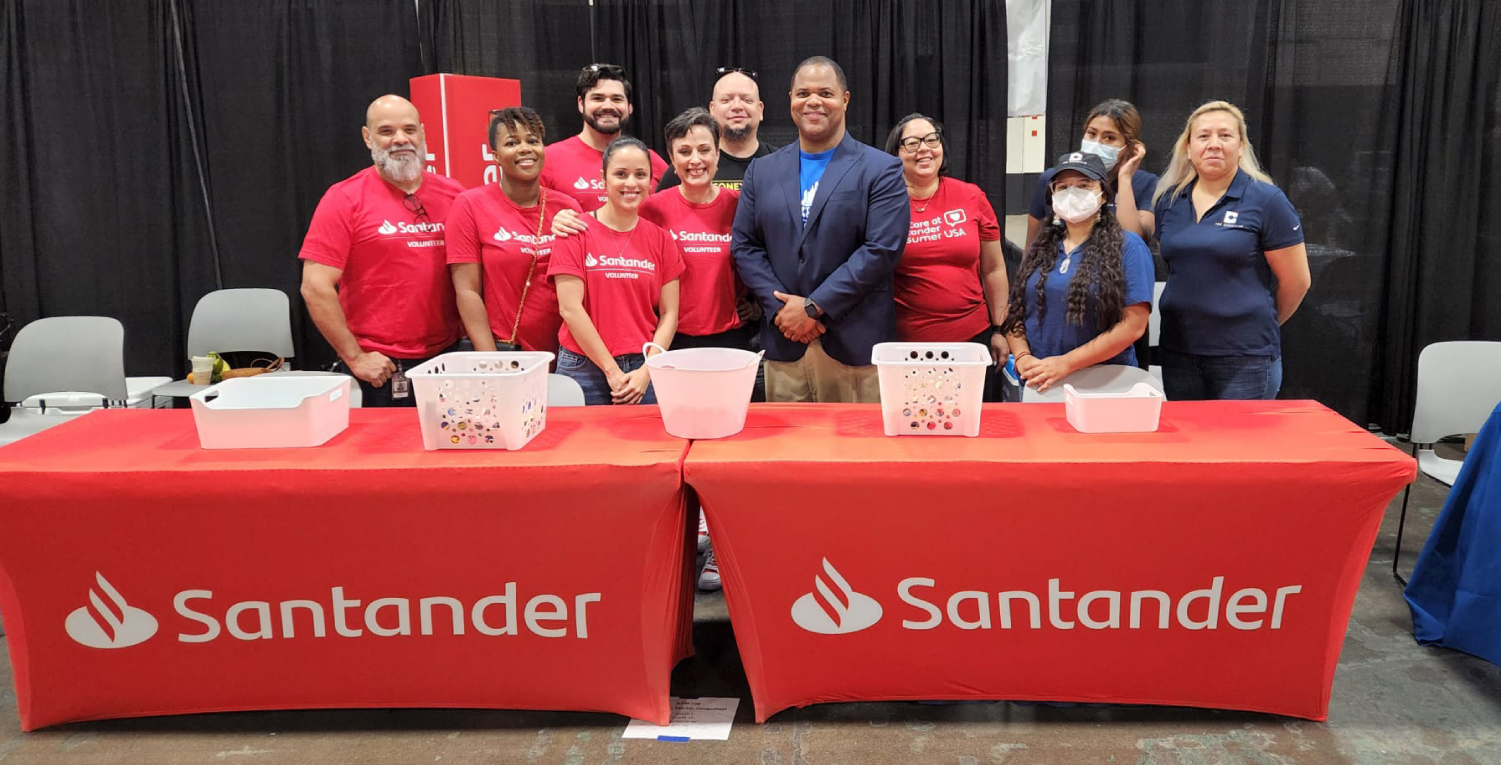 "The gift from the Santander Consumer USA Foundation will provide tens of thousands of families technology at home and enables access to a world of content, knowledge and support services that are otherwise beyond reach," said Megan Steckly, Compudopt Chief Executive Officer.
This is just one of many initiatives SC is undertaking to help bring financial and educational empowerment to our communities. Compudopt aims to service 10,000 Dallas households by 2024. Interested households that meet the criteria in Dallas and the project's expansion cities of, Atlanta, Georgia and Mesa, Arizona, can register for a chance to be selected for a laptop on the organization's website.
By June of 2022, connections were made in Dallas bringing Internet connectivity to over a thousand families who might otherwise not have access.
Santander is also committed to supporting digital inclusion through volunteerism and has hosted two onsite events at SC headquarters for Dallas students. In December, Santander Consumer's leaders and technology team helped facilitate a hands-on STEM experience for 20 Dallas middle school students. Students from Solar Preparatory School for Girls, a Dallas ISD school, participated in a critical-thinking STEM project. Thanks to our partner and SC Foundation grantee Compudopt, students also received a donated laptop as part of the experience.
"It was such a pleasure to work with these inquisitive, energetic and just plain cool kids for the afternoon," said Kate O'Connell, Santander Consumer USA Senior Director, Technology Risk, who volunteered at the event. "They were so smart, and I can't wait to see this generation of kids enter the work force some day! It was great to see that their schools and communities are supporting their desire to learn about technology. I love that Santander Consumer Foundation is making it more accessible with sponsoring groups like Compudopt. The smile on their faces when Santander Group Executive Chairman Ana Botin handed them a computer was just worth every minute of my Volunteer Paid Time Off!"
Big plans are already in store for addressing digital inclusion in 2023 and beyond. In March, the digital inclusion initiative begins in Atlanta with support coming from Santander and Compudopt for digital inclusion week to bridge the digital divide with free, reliable high-speed Internet and more laptops and learning.
"This transformational work we are doing in partnership, and as a result of the Santander Consumer Foundation, builds capacity for our organization as well as ensures meaningful impact in the community. By providing technology access and education, together we help create economic mobility in our highest-need communities for years to come," Steckly said.
Visit Santander Consumer Foundation and Compudopt to learn more.