For the past few years, Santander Consumer USA has had the privilege of supporting nonprofit Wheels of Success through grants and employee volunteer opportunities. Headquartered in Tampa, Florida, Wheels of Success helps families obtain and sustain work by providing them with reliable personal transportation.
In 2021, the Santander Consumer Foundation granted Wheels of Success $50,000 to support the facilitation of transportation opportunities and vehicle ownership during the pandemic.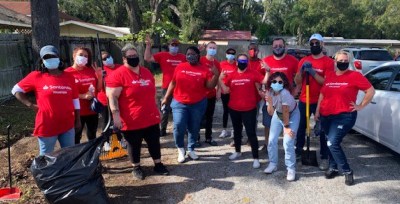 "This $50,000 grant awarded in 2021 allowed Wheels of Success to provide security at its new location including cameras and an electronic gate as well as LED signage, visible from the road," said Susan Jacobs, Wheels of Success Founder and CEO. "Without that, we might not have felt safe at our new location since we often work nights and weekends. In addition, it provided us the opportunity to purchase some vehicles should a good opportunity arise since car donations are down and car prices are up due to the pandemic. We cannot thank Santander enough for their generosity in support of our mission to keep working families working," she said.
Support for Wheels of Success ties to one of the Foundation's five philanthropic pillars, Physical Mobility, which focuses on addressing personal physical modality and transportation issues that affect economic mobility.
Santander Consumer USA's financial support also helped Wheels of Success secure a fence on their property that houses the donated vehicles and a bold new sign for the organization. As part of the Santander Consumer USA volunteer program, employees cleaned the parking lot and updated the landscaping.
A second grant this year of $50,000, was provided to Wheels of Success to help families with repair and insurance assistance so that they can continue to stay in their vehicles with reliable transport. "Transportation is vital to maintaining employment, especially in the Tampa region, and this grant will help support Wheels of Success members from falling into the 'one crisis away' situation that can cause people to lose employment," said Suzanne Massey, Santander Consumer USA Foundation representative.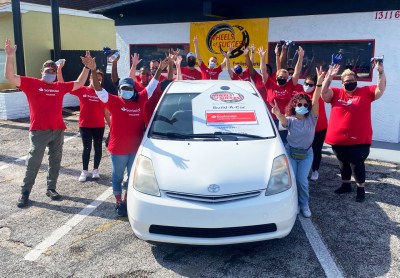 In addition to the Foundation grant, earlier this year, Santander Consumer USA announced a four-year commitment to donate two quality used vehicles every quarter to Wheels of Success Inc. The announcement was made in April during an auction fundraising event benefitting the Tampa-based organization. Santander Consumer USA will donate 30 vehicles through December 2025, valued at approximately $600,000.
"Now that Santander is a proud member of the Tampa community, we want to help remove barriers to transportation, which are often barriers to employment," said Virnitia Hendricks, Chief Diversity Officer for Santander US and Wheels of Success Board Member. "Our hope is that Santander's support of Wheels of Success provides a measure of stability for Wheels of Success' programs over the coming years, removing mobility challenges for many who are underserved and vulnerable within our community."
"Working with Wheels of Success has been a rewarding experience," says Eric Battle, SVP, Diversity Officer, who attended the volunteer event. "Being able to make such a huge impact within the Tampa community is how Santander continues to help people and businesses prosper. We're dedicated to making positive change for years to come," Battle says.