For more than 30 years, the nonprofit Bryan's House has been on a mission to provide underserved children in North Texas with specialized medical, educational, and therapeutic care and holistic support services for families to thrive.
In 2021, the Santander Consumer USA Foundation in line with its physical mobility pillar, awarded $100,000 to Bryan's House to help support the organization's mission.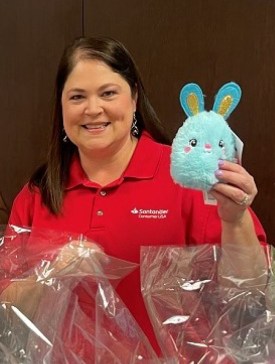 Pictured at right: Misty Corbett, Manager, RCA, and member of Santander Business Resource Group Thrive, helps put together spring baskets.
In addition to the grant, over the past few years, Santander Consumer employees have volunteered in a variety of capacities to support Bryan's House. In April 2022, members of Santander's Thrive Business Resource Group, volunteered to create 100 spring baskets for children supported by Bryan's House.
"It's so rewarding to see a child smile and know that in some small way you brightened their day and contributed in a positive way to their overall quality of life," said Thrive member Misty Corbett, Manager, RCA, who helped build the baskets.
Thrive, one of seven Business Resource Groups employees at Santander can join and participate in activities, was created to support colleagues who identify as caregivers or are living with cognitive and physical differences, as well as those who wish to support them.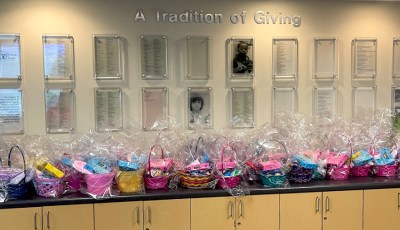 "We got involved with Bryan's House because our mission supports their cause – Bryan's House serves children with medical or developmental needs and their families by providing specialized childcare, respite care and social services," Corbett said.
In addition to the spring basket creating event, Santander employees also volunteered during a virtual back-to-school event over the summer, which involved purchasing backpacks and school supplies for children.
"Santander's support of Bryan's House has been essential to our mobility-inclusive programs these past two years," said Bryan's House Chief Executive Officer Abigail Erickson-Torres. "Their Thrive volunteers making holiday baskets for the children with very complex medical needs (who would not have those treats otherwise) and helping on our summer fun splash days at our campus. Your employees give their hearts to make a child's everything in the moment. It's priceless to see and experience first-hand. Thank you to Santander for supporting our vital work, and educating our parents and caregivers to understand budgeting, credit and savings in the real world. Together we are changing their trajectories for life."
With the holidays approaching, Corbett says Santander employees should be on the lookout for volunteer opportunities with Bryan's House and Cookies with Santa in December!