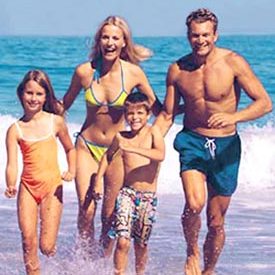 Can you feel it in the air? The weather is getting warmer, the sun is shining brighter, and the kids continue to remind you that only a few days remain before this school year is over.
So, get ready! It's time to start planning the family vacation.
Before you had kids, you could gas up the car, set out and see where you ended up. But things change when you have to factor in regular potty breaks, the boredom factor and the ever-looming question, "Are we there yet?" Whether you're hitting the road or flying the friendly skies, you must have a plan.
How do you decide where to go for the best family vacation?  There are several online travel sites that can point you in the right direction.  AAA.com is known for helping travelers in distress, but did you know it also provides expert recommendations for family vacation travels? The roadside assistance expert is also good for planning the next family outing. 
One key thing to remember about family vacations: one size does not necessarily fit all.
If you have a diverse age group among your kids, planning a trip to visit the zoo may not work for your teenager. The key to successful family vacations is "planning activities that are fun and exciting for everyone," according to Bill Wood, AAA.com executive director.
With AAA.com, you can find options for tots to teens, and plan something that fits everyone's fun palate.  The site offers destinations that not only are kid-friendly, but put into age-appropriate groups. Worried about having to travel too far? Top picks give you options from coast to coast.
There are a variety of travel sites to help plan your family vacation, Expedia.com and TripAdvisor.com to name just two. But be careful: Many are sponsored by vacation destinations/companies and can put a spin on the information they provide.  Like anything you're planning, research is the key. 
If you've found the vacation spot but are a little short on cash, it may be a good time to consider refinancing your car.  RoadLoans.com offers a quick-and-easy, online refinance application. In just seconds, you will get a decision so you know how much money you'll save for your family's adventures.
So get on those summer plans now. Don't wait too long. Summer may have come quickly, but September will be here before you know it.