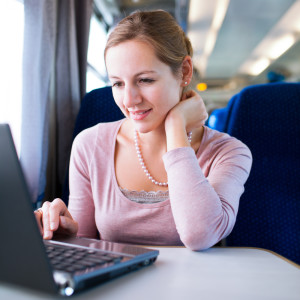 An online car loan works a lot like any other financing – except that it's faster than more traditional methods and puts you in control of the process.
Santander Consumer USA and its RoadLoans brand have pioneered online car loans and have been rewarded with industry recognition, such as a recent mystery shopping report by Auto Finance News which said SCUSA provides prospective car buyers with the best online experience.
SCUSA finances auto purchases through dealerships, and RoadLoans is available directly to consumers.
Direct financing means car shoppers can go online through their home computer or mobile device, complete an application quickly and easily, submit the car loan application and get a response within minutes. (We tried it and were able to complete the application in less than three minutes.)
"Web and mobile shopping for auto finance have long been a priority for Santander," said Bruno Paiva, vice president of Web and mobile marketing for SCUSA.
"We are continually looking for ways to enrich the user experience on these platforms. Consumers continue to move away from the desktop toward portable devices, and we must be ready to help them shop for financing and service their account easily and securely."
At the Santander Consumer USA website, shoppers will find an "Apply for you new car today" link, which connects directly to the RoadLoans application. Take a few minutes to fill out the application for financing between $5,000 and $75,000, then sit back and wait for your car loan approval. Many shoppers are approved within minutes, and then are able to take their car loan documents with them to a dealer. Such pre-approved financing gives the shopper an edge in the process because it's like paying with cash.
The RoadLoans website provides direct access to the RoadLoans application, and then the process is the same as described earlier – complete and submit the car loan application, and wait for your quick approval. SCUSA's RoadLoans product also offers online auto refinance loans using the same process.
All subsequent car loan servicing (billing, payments, etc.) is handled by SCUSA.
RoadLoans is even connected to some of the leading online car-buying websites, including Cars.com, AutoTrader.com and KBB.com, offering financing through each using the same fast-and easy RoadLoans process. RoadLoans is a "preferred direct lender" (AutoTrader.com), "trusted lender" (Cars.com) and "financing center" (ebaymotors.com) of those well-known names in the automobile and truck information and sales industry.
But the proof of the pudding (the process) is in the tasting (the results for car shoppers).
"RoadLoans.com gave me approval in less than 60 seconds over the Internet," wrote customer Taffetta S. on the website. "I have had to call them for questions I had, and the customer service was outstanding. I only had to show my driver's license and pay a very small down payment and my car was on its way to me through CarMax. Thanks RoadLoans, and I really mean it."