It has been nearly a quarter century since the last new Ford Bronco hit the road – or the off-road.
But that's changing after years of planning with Ford Motor Co.'s re-introduction of the iconic vehicle that was discontinued with the 1996 model year.
While fans of the model still can purchase a pre-owned version – such as a 1996 Bronco XLT available for about $27,000 on Autotrader recently or an azure blue 1969 model selling for about $109,000 – Ford's focus is on selling the new model, albeit with a retro look.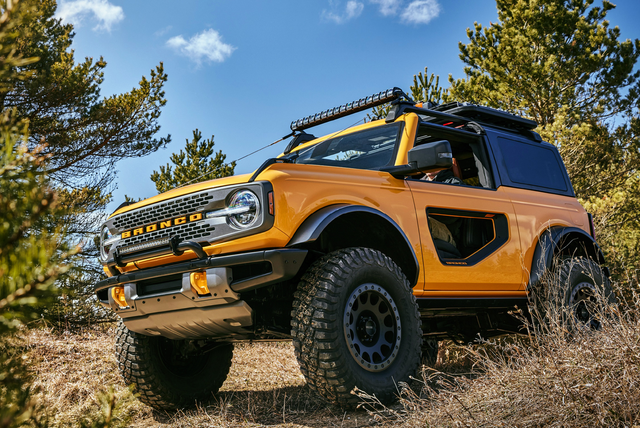 Photo credit: Ford via Newspress USA
The new Ford Bronco aims to take on the wild – and other SUVs.
Ford sold more than 1.1 million Broncos in five generations over 31 years, but retired the model with the introduction of the more "family-friendly" Ford Expedition and Ford Explorer.
But now Ford needs something to take on vehicles such as Fiat Chrysler Automobiles' very popular Jeep® Wrangler, the Toyota 4Runner and the Land Rover Defender.
Related
Chrysler Capital test drive: 2020 Jeep® Wrangler Unlimited
The new sport utility will be available in two sizes: The Bronco Sport to be released this year with a price tag starting around $28,000, and larger Bronco in two- and four-door models arriving next spring with prices starting at about $30,000 and rising to more than double that depending on options.
Customer response to the reveal of the all-new Bronco is "unprecedented in Ford history," with more than 165,000 people placing $100 deposits for orders online within the first three weeks.
"Bronco Sport has the toughness and smarts to help turn off-road novices into 4×4 pros," said Hau Thai-Tang, Ford's chief product development executive. "Bronco Sport embraces the needs of outdoor enthusiasts – every inch of it was designed and engineered with weekend adventures in mind."
"We created the Bronco family to elevate every aspect of off-road adventure and equipped them with class-leading chassis hardware and exclusive technologies to raise the bar in the rugged 4×4 segment and take people further into the wild," said Jim Farley, Ford's chief operating officer. "They're built with the toughness of an F-Series truck and performance spirit of Mustang."
Ford already has doubled-down on re-introduction of the model with five Bronco Adventure Concepts.
"Our dream for Bronco was not just to design a family of vehicles people would love, but to build a community around people who love to go off-road and get into the wild, who want to customize and personalize their Broncos, and share experiences with each other," said Jim Hackett, president and CEO.