You cannot beat a beige Toyota RAV4 crossover if you want a deal on a three- to five-year-old vehicle.
Eight of the 25 most-popular used vehicles in the U.S. offering a high percentage of deals – discounts of at least 10 percent – are beige, reports iSeeCars.com vehicle research website.
In other words, if you're looking for a used car deal you should shop for a beige model.
Based on a study of more than four million used vehicles sold between January and August of 2019, iSeeCars said more than seven in 10 available RAV4 crossovers sold for at least 10 percent savings. But, if a RAV4 crossover doesn't fit your lifestyle there are plenty of other beige vehicles available.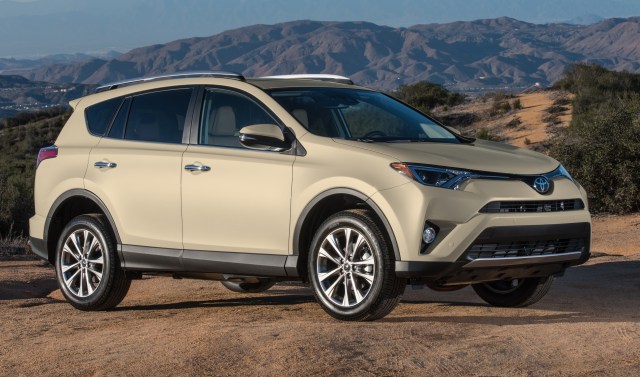 Other beige vehicles with high percentages of inventory sold at big discounts:
Jeep Cherokee, 40 percent
Jeep Grand Cherokee, 37.8 percent
Chevrolet Equinox, 25.9 percent
Nissan Altima, 23.9 percent
Honda Accord, 18.8 percent
Toyota Camry, 17.1 percent
Hyundai Elantra, 9.3 percent
Nearly a quarter of beige vehicles were available for at least 10 percent off the model averages.
"Ranking ninth in terms of popularity among vehicle colors, beige is not among the most popular color choices for consumers, which are black, white, silver and gray," reports iSeeCars. "Gold vehicles earn the second spot for providing the most deals for car shoppers."
"As the 11th most-popular vehicle color, gold is another example of a less-common color choice that can lead to better chances of finding significant deals for consumers," said Phong Ly of iSeeCars. Other colors represented among the top 25 most popular, in order of the variety of highly discounted models, are silver, five models; green, brown and white, three models; red, two models, and black, one model.
Vehicles that often sell for significant discounts are:
Toyota Tacoma, white, 55 percent
Honda Civic, brown, 46.8 percent
Ford F-150, white, 33.9 percent
Ram Pickup 1500, silver, 30.5 percent
Chevrolet Silverado 1500, white, 29.9 percent
Ford Escape, green, 24.1 percent
Ford Explorer, silver, 24 percent
Subaru Outback, brown, 21.5 percent
GMC Sierra 1500, brown, 19.8 percent
Toyota Highlander, green, 19 percent
Jeep Wrangler, red, 18.5 percent
Honda CR-V, black, 18.1 percent
Nissan Rogue, silver, 17.5 percent
Subaru Forester, red, 17.2 percent
Toyota Corolla, green, 17.1 percent
Nissan Sentra, silver, 16.8 percent
Ford Fusion, silver, 13.8 percent
"Consumers looking for a deal on a car should consider looking at beige and gold cars," said Ly. "But deals can still be found on popular colors such as black, white, silver and gray."
Vehicle colors that provide the fewest deals – hold their value better – are pink, just 1 percent of vehicle sold at least 10 percent above the model average. Seven colors offer fewer large discounts compared to model averages are yellow, green, white, teal, red, purple and orange.
Ly explained that unusual colors such as purple and orange may hold their value better because, while demand for those colors is limited, the supply is even smaller.