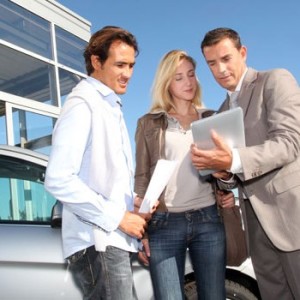 Long-term auto loans and leasing hit record levels in February, according to a J.D. Power analysis of last month's new-vehicle transactions.
"Longer loan terms, coupled with the current low-interest-rate environment, increases the affordability of new vehicles for consumers," said Thomas King of the Power Information Network (PIN), which gathered the data. "This is resulting in strong demand for new vehicles and record transaction prices."
Classified as 72 months or more, long-term loans accounted for 32 percent of new-vehicle retail sales in February, according to the data, setting a new record for long-term loans as a percentage of new-vehicle retail transactions in a single month. The previous record was set in September 2012, when 30.6 percent of new-vehicle sales were loans of 72 months or longer, said J.D. Power.
"While 72-month loans are becoming increasingly popular, loans for 24 to 60 months are keeping the average term for new-vehicle loans at 66 months, an increase of only three months since 2009," reported J.D. Power in a press release about the new PIN data.
At the same time, lease penetration reached its highest level on record with 27 percent of retail sales in February. The previous record was 26 percent lease penetration in May 2000.
With typical contract lengths of just 36 months, leasing ensures a healthy supply of future vehicle buyers with shorter purchase cycles, according to King.
"Unlike buyers who finance their vehicle and have considerable discretion regarding when to return to market, consumers who lease their vehicle must come back into the market when their lease terminates," said King. "The current level of leasing means there will be a steady and significant stream of lessees returning to market three years from now."
The auto industry also was on track to achieve its highest-ever average transaction price for February, J.D. Power said, exceeding $29,000 and surpassing the previous record in February 2013 by nearly $400.
J.D. Power reported that while loans of 84 and 96 months also are available to consumers, "such loans have yet to compose any meaningful portion of the auto financing market," with loans of 84 months and longer comprising only 3 percent of all new-vehicle sales in February.