Diversity, equity and inclusion aren't just corporate buzzwords at Santander Consumer USA (SC).
The Dallas-based auto lender has embarked on a journey beginning with inclusion "that will drive equity and diversity," according to Virnitia Hendricks, SC's first Chief Diversity Officer.
"I've always been passionate about people and helping them be their best selves and reach their potential," said Hendricks in a recent article in Auto Finance News, where she discusses the opportunity to advance diversity, equity and inclusion in the auto finance industry.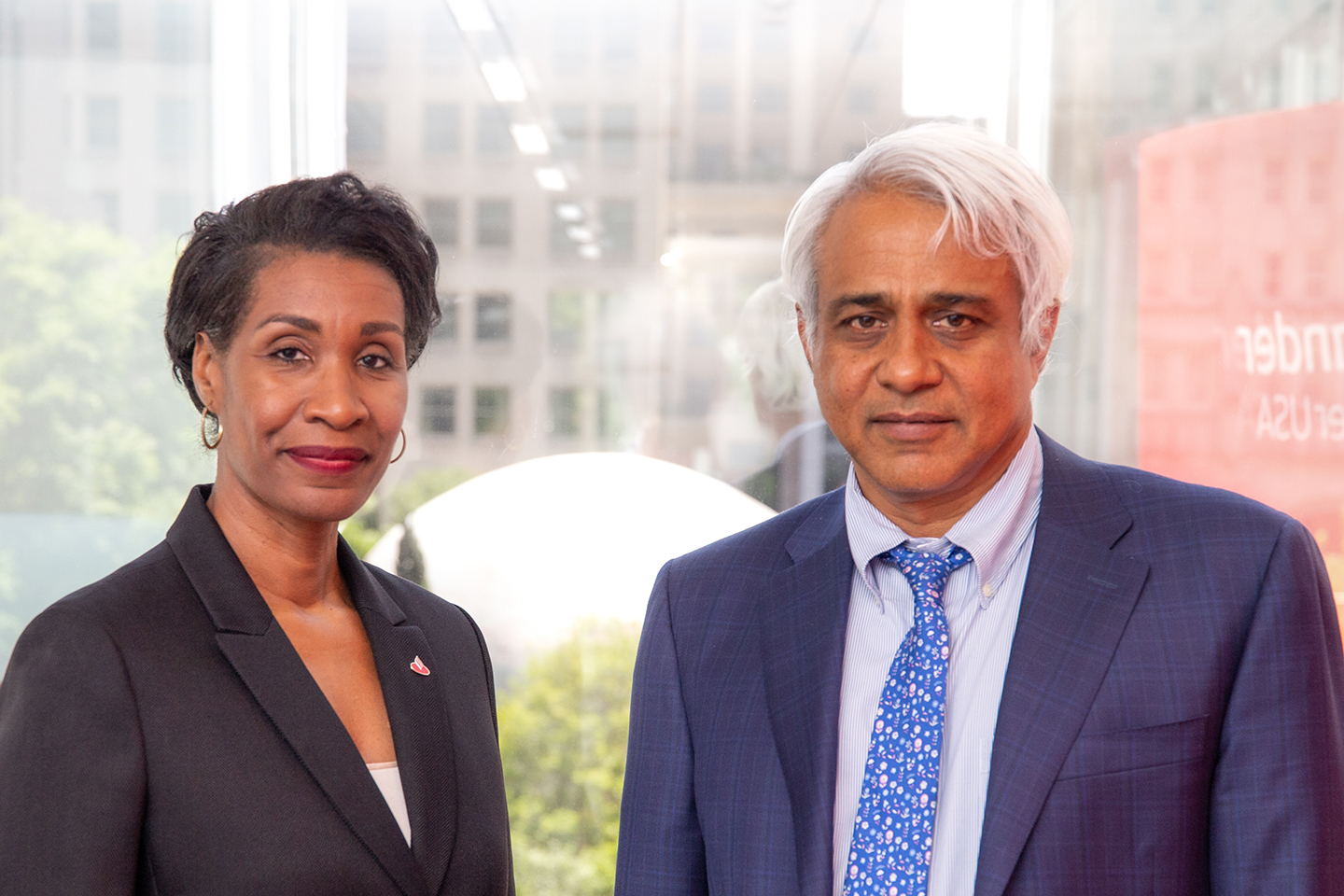 Photo credit: Santander Consumer USA.
Virnitia Hendricks and Mahesh Aditya lead SC's diversity, equity and inclusion strategy.
Hendricks, who heads SC's Office of Diversity, Equity and Inclusion, describes how her previous experience in organizational management consulting with executives at Fortune 500 companies shaped her approach to Santander Consumer's inclusion strategy.
"What kept coming up was diversity, equity and inclusion, and the challenges that [my clients] were having in pushing the needle in that space … not seeing the progress they really wanted," said Hendricks, who previously held executive positions at Travelers Insurance and New York Life Insurance.
Hendricks leads an inclusion strategy – initiated by CEO Mahesh Aditya before Hendricks' arrival – seeking what the CEO called "cultural change with a focus on comprehensive and results-driven outcomes."
Creating a culture of change
"We have been working hard at SC to build an inclusive culture that values everyone's opinions and perspectives, where ideas can be debated in a respectful manner so we can build bridges of understanding," Aditya said in a recent message to SC's 5,500 employees. "We are committed to challenging inequities and helping to bring about change."
The CEO began an active inclusion campaign last year with "listening sessions," bringing Aditya to the forefront of discussions to ensure a diverse, equitable and inclusive organization in which all SC employees are "catalysts for change."
A 20-minute video about the discussions was distributed companywide and covered important points including what diversity and inclusion should look like and what constitutes change.
With the intention of "making active listening a core part of our culture," Aditya and Hendricks have hosted more than 50 listening sessions with Employee Resource Groups and team members across the organization to further understand the needs of SC employees.
'Meaningful and permanent'
SC also joined Santander Bank NA in committing $1 million over two years for leadership training and racial and social equality initiatives, with Aditya, who was outspoken following the death of George Floyd and during the summer of unrest that followed, calling upon "the enormous talent and boundless energy at SC to establish meaningful and permanent change."
SC established a Diversity and Inclusion Council and additional initiatives to "demonstrate our commitment to measurable change in a short period of time" and a sustainable commitment to diversity, equity and inclusion. Those initiatives include implementing an internal financial literacy program called HOPE Inside with the goal of ensuring all SC employees have "equal access to financial literacy and the knowledge and tools needed to build generational wealth and a successful future."
Change starts with inclusion
"It is my hope that we will continue to come together as an SC family to build a company that is rooted in common humanity and our desire to see people and communities prosper," Aditya said.
Additional steps have been taken since Hendricks' arrival, including the launch of a mentorship program, creation of a website dedicated to diversity, equity and inclusion at SC and publication of a booklet outlining specific ways SC employees can become "icons of inclusion."
"It starts with inclusion. It starts with culture," Hendricks told Auto Finance News. "I talked earlier about making sure that we were listening, and that we're in a position to incorporate feedback and the voice of our employees, our customers and our communities."
"We are committed to being simple, personal and fair as it relates to how we treat employees – and our communities and customers, as well," she said. "We are continuing on that journey."
Read more about SC's chief diversity officer's outlook at Auto Finance News.