Most of us drive.
More than 222 million as of 2016 according to Statista research company. Driving around 270 million registered vehicles. No wonder the roads are crowded.
But traffic (and infrastructure) is just one factor in whether your city is among the best or the worst in which to drive, based on a study of 100 locales by WalletHub, a personal-finance website. Other factors are cost of ownership and maintenance, access to vehicles and maintenance, and safety.
WalletHub rated each one on a 100-point scale, with 100 being the best possible score.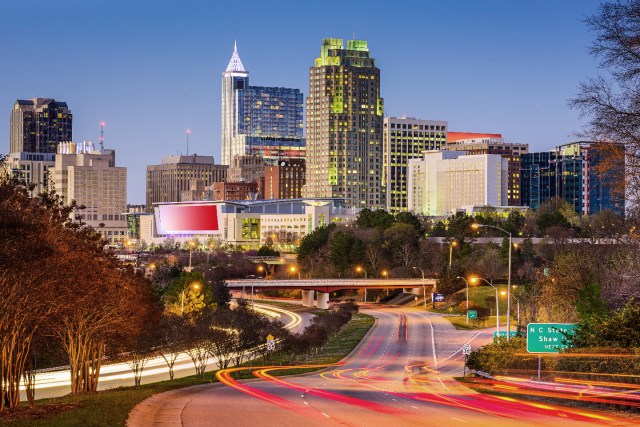 Maybe it shouldn't come as a surprise that many of the best cities in which to drive are in the South and Southwest and that many of the worst are among the largest metro areas in the country.
The highest-ranked cities were No. 1, Raleigh, NC; No. 2, Corpus Christi, TX, and No. 3, Orlando, FL. In fact, North Carolina, Texas and Florida dominated the 10 best cities in which to drive. Texas scored the most cities in the Top 20 with seven.
Highest-ranked cities outside the South and Southwest are No. 15, Lincoln, NE, and No. 22, Wichita, KS.
Following are the Top 10 best cities in which to drive and their WalletHub scores:
Raleigh, 68.4/100
Corpus Christi, 68.26
Orlando, 67.35
Greensboro, NC, 66.31
Plano, TX, 64.71
Winston-Salem, NC, 64.7
Durham, NC, 64.5
El Paso, TX, 64.34
Jacksonville, FL, 63.87
Tampa, FL, 63.67
The worst city in which to drive, No. 100, is Detroit, MI, with only 35.13 points, WalletHub reported.
The rest of the bottom 10 are:
San Francisco, CA, 36.05
Oakland, CA, 38.44
Philadelphia, PA, 41.29
Seattle, WA, 42.03
Boston, MA, 42.59
New York, NY, 43.28
Newark, NJ, 43.29
Los Angeles, CA, 44.41
Chicago, IL, 44.49
"Most people still choose to travel by car, mainly for reasons such as comfort and reliability," said WalletHub in a report, 2018's Best & Worst Cities to Drive in. "In truth, however, driving is often a major hassle and expense. Drivers annually spend an average of more than 290 hours on the road. For a full-time worker, that's the equivalent of a seven-week vacation."
The website dug a little deeper and conjured up nine other ranked lists that helped define the overall best and worst cities, including the following winners (least/lowest) and losers (most/highest):
Hours spent in traffic congestion annually –
Winner: Greensboro, NC
Losers (tie): Los Angeles, CA; Atlanta, GA; San Francisco, CA, and New York, NY
Likelihood of an accident –
Winner: Madison, WI
Losers (tie): Boston, MA; Baltimore, MD, and Washington, DC
Car-theft rate –
Winner: Gilbert, AZ
Losers (tie): Oakland, CA; Albuquerque, NM, and Detroit, MI
Auto-maintenance costs –
Winner: Portland, OR
Loser: New York, NY
Average gas prices –
Winner: Oklahoma, OK
Loser: San Francisco, CA
More details on these and other best-and-worst cities lists are available at WalletHub.
But if you live in Detroit, perhaps you should consider moving to Raleigh. Besides the apparent driving advantages, it's warmer there anyway.