Never underestimate the power of even the smallest act of kindness.
That sentiment, stated by a member of the Santander Consumer USA (SC) sales management team, seemed to fit the spirit of a group of volunteers who recently worked at the North Texas Food Bank.
"Time is not necessarily a commodity which sales management has in abundance," said Roger G. "But one thing I know we all have … we all have big enough hearts to share with everyone."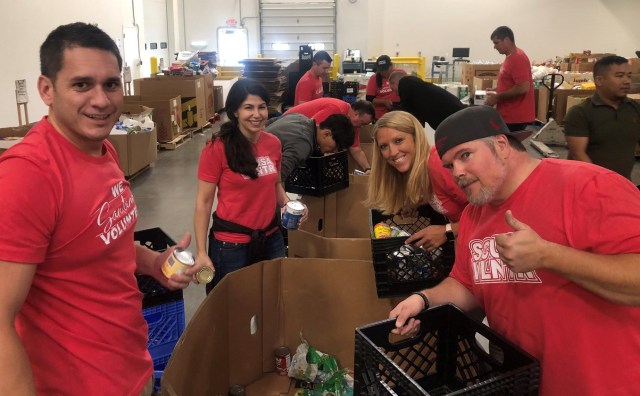 That ideal is demonstrated over and over by associates using SC's Volunteer Paid Time Off program.
SC associates this year have contributed thousands of hours of VPTO to organizations in the company's main operations sites in Texas, Arizona and Colorado, and elsewhere across the country.
"It is very important to me to make a difference in life," said Jay P., another sales manager who helped sort, bag and box food at the food bank distribution center. "Giving back to communities and organizations allows for me to do just that. I've been with SC for 13 years and taking advantage of the VPTO days that the company offers is something I do every chance I get."
The North Texas Food Bank is just one of the recent recipients of those volunteer efforts.
RELATED
Volunteers show heart to build tiny houses for veterans
Sharing time, caring goes a long way at North Texas Food Bank
'Starving Children' mission gets boost from SC volunteers
Delivering food to pantries and other partners – more than 200 in 13 counties – the organization distributes millions of meals a year to provide for the nutritional needs of children, families and seniors. The food bank estimates that 94 percent of every dollar donated goes directly to hunger relief.
The SC group of 15 volunteers sorted 26 pallets of canned food weighing 750 pounds each – a total of 19,500 pounds. That's enough to provide recipients 16,250 meals.
"As we approach a particularly challenging time of year for many families in our community, we wanted to ensure that we maintained a perspective on the areas around us and the people who make up our neighborhoods," said volunteer Yolanda A. "By giving back to those in need, we are able to recognize our own blessings and come away with a feeling of gratitude and appreciate what is truly important."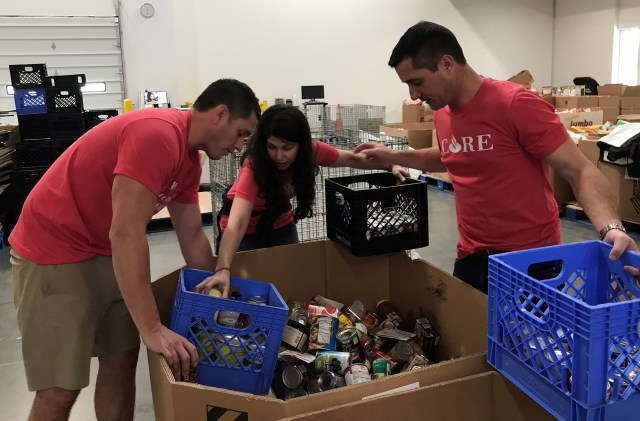 "I really appreciate the opportunity to volunteer in my community, and being able to volunteer with my team made the experience even better," said Robert C. "It was a very rewarding experience to know that our efforts were contributing to the wonderful work being done by the North Texas Food Bank."
All of the volunteers remarked on the connection of community with their work life.
"Core sales management has always been a very tightly knit group," said Vince M., senior vice president. "That esprit de corps is built through activities like our work with the North Texas Food Bank. We all feel extremely fortunate to work at SC to provide for our family and friends. There are others that have not been as fortunate, so we want to give back to the community that has helped us succeed."
"Some of my fondest memories at this company have been working with teammates in the community and volunteering with several different charities," said the 20-year SC veteran. "The VPTO benefit we receive is one of the things I'm most proud that our company does."
"It allowed us to help others while bonding as a team to accomplish a great amount of work," said volunteer Amber C. "I feel so fortunate to have my career at SC. The fact that [the company] gives us VPTO and encourages us to help others makes it even better."
Another member of the team, Patrick C. said that "having the VPTO benefit at SC gave us the opportunity to collectively do our part by simply volunteering our time."