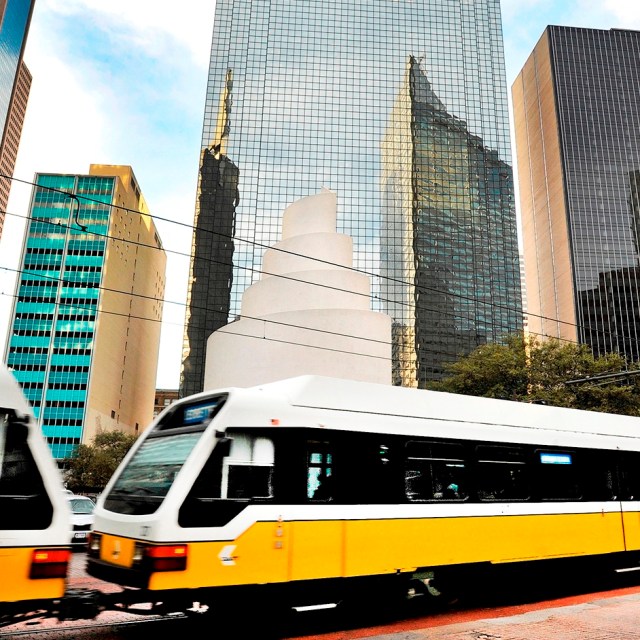 Just over five years ago, Santander Consumer USA (SC) made a big move with Thanksgiving Tower in downtown Dallas becoming our new corporate home.
But a lot has changed in those five years at the corporate headquarters on Elm Street.
That includes a new president and chief executive officer, Scott Powell, who stepped into the leadership role about two years ago and has led the way to progress on regulatory and operational fronts.
The company's Chrysler Capital line of business has continued to grow and has helped Fiat Chrysler Automobiles to achieve record sales.
An influx of workers
And an influx of associates and contractors/affiliates over the last five years means nearly 1,900 workers occupy 14 floors, or about a quarter of Thanksgiving Tower. Those figures are nearly double the occupancy rates at the time of the move, according to SC.
SC's Thanksgiving Tower presence represents almost 40 percent of the company's total workforce of more than 5,000 nationwide.
Santander Consumer was listed at No. 23 on The Dallas Morning News' 2019 list of Dallas-Fort Worth's 150 largest public companies with more than $7 billion in revenue.
Significant upgrade for SC
Among the Tower's other 20 tenants are Santander Bank, the law firms of Gray Reed & McGraw and Kane Russell Coleman & Logan, the Beck Group architecture and construction company, the consulting firm Veritas Advisory Group and Tower Club of Dallas.
SC's leadership team worked directly with an interior architecture firm to create studio-style offices to inspire the excellence and teamwork among associates every day, which represented a significant upgrade over SC's former facilities along Stemmons Freeway.
A $40 million-plus "curb-to-core" remodel of the Tower also was undertaken by owner Woods Capital.
Walk and roll on DART
Associates have gotten accustomed to the many benefits of working at 1601 Elm Street.
The offices are a short walk from two DART train stations (Akard and St. Paul), and many associates have discovered the advantages of riding the train to work – including arriving at the office without the accumulated stress of commuting by car during the morning rush or home during the evening rush.
Now, it may seem ironic that a company that generates most of its income from auto lending would encourage use of public transportation, but SC doesn't see it that way – it's a quality of life thing, and it's good for the environment.
A quality of life thing
Another major benefit to working at Thanksgiving Tower is the building's proximity to numerous restaurants, both at street level and in the underground Dallas Pedestrian Network; shopping; arts and entertainment spots, including the 19-block Dallas Arts District, and green spaces such as Klyde Warren Park, Dallas City Hall Plaza, Main Street Garden Park and Thanks-Giving Square.
One Santander associate summed up the original move this way: "[Our manager] mentioned during our initial move meeting … that our quality of life would improve after the move to downtown. We were all very reluctant, but I truly believe he was right. I love it!"
"Thanksgiving Tower is light, bright and airy – and much more welcoming than our previous office space," said one current associate, who worked at the Stemmons location. "I also have observed an improvement in how we all communicate and work together due to the open office concept. And it has the bonus of having so many great lunch options in walkable distance from the office."
Other associates today at Thanksgiving Tower aren't likely to challenge that reaction.