They are the model citizens of the automotive world.
When it comes to customer loyalty, these 24 models and six brands – mainstream and luxury – apparently have the IT factor, based on sales of 2018 vehicles.
From the "traditional" subcompact Mini Countryman to the full-size luxury Lincoln Navigator SUV, these 2018 models demonstrated "superior customer retention and conquest."
Besides the individual winners, six brands also were recognized with IHS Markit loyalty awards.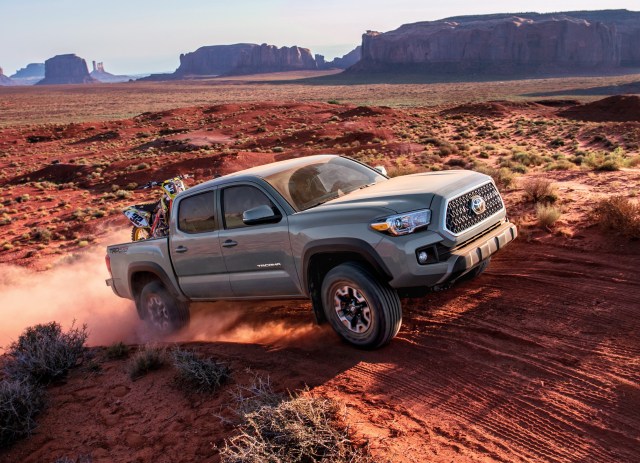 Mainstream brands with most segment wins are Toyota with three and Ford, Honda and Jeep, two each, while luxury brands Lexus earned four segment wins and Lincoln three, according to the research firm. Overall, a record 53.7 percent – almost 9.5 million – of new-car customers returned to purchase or lease another vehicle from the same make they already owned.
This year's winners from the 2018 model year by category and segment are:
Mainstream vehicles
Chevrolet Equinox, compact crossover utility vehicle (CUV)
Subaru Outback, midsize CUV
Jeep Wrangler, compact sport utility vehicle (SUV)
Jeep Grand Cherokee, midsize SUV
GMC Yukon Denali XL, full-size SUV
Toyota Tacoma, midsize pickup
Ram 1500, full-size half-ton pickup
Ford F-Series, full-size three-quarter to one-ton pickup
Honda Odyssey, midsize van
Mini Countryman, traditional subcompact car
Honda Civic, traditional compact car
Toyota Camry, traditional midsize car
Toyota Avalon, traditional full-size car
Volkswagen GTI, sports car
Ford Mustang, midsize sports car
Luxury vehicles
Lincoln MKC, compact CUV
Lexus RX, midsize CUV
Lexus GX, midsize SUV
Lincoln Navigator, full-size SUV
BMW i3, traditional subcompact car
Lincoln MKZ, traditional compact car
Lexus ES, traditional midsize car
Lexus LS, traditional full-size car
Porsche 911, sports car
Other awards
Among the brand winners were General Motors, overall manufacturer; Ford, overall make; Jeep, highest conquest percentage; Lincoln, dealer loyalty, and Tesla, most-improved loyalty to make and most-improved conquest percent, with GM, Ford and Jeep all repeating 2017 model-year wins. GM and Jeep also scored four-peats, while Ford's streak reached nine years, with about two-thirds of GM and Ford owners having remained loyal to their brands when buying or leasing in 2018.
Also notable in brand results is Toyota's strength in ethnic markets, leading that category overall, as well as Hispanic, Asian and African American markets individually.
Previous winners
For used-car shoppers, the 20-plus year history of the loyalty awards from IHS Markit and, before that, Polk Automotive, means many previous winners are available used.
Models that have commanded the greatest loyalty over the last six years are:
Jeep Wrangler and Jeep Grand Cherokee, six consecutive years; Subaru Outback, GMC Yukon Denali XL, Ford F-Series, Volkswagen GTI and Lexus ES, four years; Ram 1500, Lincoln MKZ and Porsche 911, three years, and Honda Odyssey, Mini Countryman, Lincoln MKC and Lexus GX, all two years.
Loyalty award winners by model year are available here: 2018, 2017, 2016, 2015, 2014 and 2013.