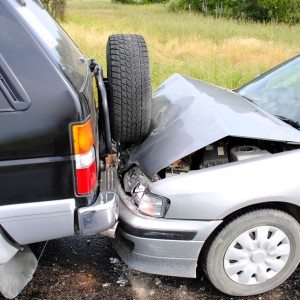 It's an unmistakable sound that no driver wants to hear: the squealing of brakes quickly followed by the loud thunk of two bumpers meeting each other at speed.
More than 40 percent of the six million car accidents that occur every year are rear-end collisions – fender benders – the most prevalent type of vehicle accident a driver can experience. And the rise of handheld, distracting technology has only increased the probability of such an accident occurring.
Fortunately, car manufacturers are working to lower the number of rear-end collisions with front crash-prevention systems.
Front-crash prevention systems use cameras, usually mounted slightly above the rear-view mirror, to monitor traffic and obstacles in front of the vehicle in motion. When the cameras sense trouble, the system alerts the driver of the impending danger and also works to slow the car down or even bring the vehicle to a complete halt, as this recent video by Hyundai illustrates (front-crash prevention system shown fully at the 2-minute mark).
According to thecarconnection.com and the Insurance Institute for Highway Safety (IIHS), more than 40 percent of 2014 vehicle models now offer a front crash prevention system, and 20 percent offer automatic braking capabilities.
The IIHS, which began testing crash-prevention systems across the board in 2013, recently released 2014 results. All models were tested at both 12 and 25 mph.
Vehicles received a superior, advanced or basic rating.
Superior – Vehicles in this category can avoid a crash entirely or substantially reduce speed:
–          BMW 5 series
–          BMW X5
–          Hyundai Genesis
–          Mercedes-Benz E-Class
–          Buick Regal
–          Cadillac CTS
–          Cadillac XTS
–          Chevrolet Impala
Advanced – Vehicles in this category can brake autonomously and could either completely avoid a crash or significantly reduce speeds in at least one of the two tests:
–          BMW 2 series
–          Buick Lacrosse
–          Lexus IS
–          Audi A3
–          Audi A6
–          BMW 3 series
–          BMW 5 series
–          BMW X5 series
–          Dodge Durango
–          Lexus GS
–          Mercedes-Bens CLA
–          Infinity QX50
–          Infinity QX70
Basic – Vehicles in this category had forward collision systems that met the federal requirements but failed to reduce speed significantly in either test situation:
–          BMW 3 series
–          Infinity Q70
–          Toyota Avalon
"We know that this technology is helping drivers avoid crashes," IIHS executive vice president David Zuby said. "The advantage of autobrake is that even in cases where a crash can't be avoided entirely, the system will reduce speed. Reducing the speed reduces the amount of damage that occurs to both the striking and struck cars and reduces injuries to people in those cars."