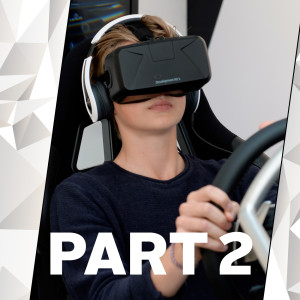 The next big thing is almost here.
At least that's the way Audi sees virtual reality technology.
Audi, along with Ford, Toyota, Volvo and Chrysler (our last blog post) are pioneering use of virtual reality in the auto industry, with the Audi bringing it into showrooms by the end of the year.
Also referred to as immersive multimedia, virtual technology comprises computer-simulated environments that can enable users to experience the sights and sounds of real or imagined worlds. That means customers and prospective buyers will be able to get a unique look at Audi products.
Audi's aim in introducing virtual reality to the dealer showroom is to provide customers and prospective buyers "a seat behind the wheel of their individually configured dream car," the company said.
"Integrating digital technologies into automotive retail, the Audi VR experience gives customers the opportunity to configure their preferred car at the dealership through virtual reality headsets and experience it in an unprecedentedly realistic way," the company said in a press release.
"You configure your vehicle in real time and in never-before-seen detail," said Luca de Meo, a member of the management board for sales and marketing for the German automaker.
Results from a "completely digital showroom" in London showed a sales increase of 70 percent and average transaction price increase of 20 percent compared to a traditional showroom, Audi reported, so the company anticipates the technology could help its dealers stay profitable.
The virtual reality program will be available in "dynamic growth markets," according to Audi.
Meanwhile, Ford Motor Company is using a new virtual reality lab, described in this video, to enable designers and engineers worldwide to collaborate on car designs, inside and out, in real time.
"In the virtual lab, we assess high-definition renderings of the vehicle to overall improve quality and appeal of the vehicle," said Robert Barbour, lab process specialist at Ford.
"In this space is a full-size virtual vehicle that we can evaluate for many different aspects of engineering and design and look at it from the customer's perspective," said Elizabeth Baron, a technical specialist at Ford. "The level of detail we can focus on now is amazing, and customers see that in the end."
Volvo got into the act with a campaign on Google Cardboard that converts smartphones into VR headsets for a trio of experiential videos promoting its new SUV, the XC90. "Google Cardboard is accessible, portable, unfussy, fun and personal — a great way to reach people," Bodil Eriksson, an executive vice president of Volvo North America, told Digiday. You can see how it works at the Volvo website and then download the app to your smartphone for the full experience.
Toyota Motor Corp.'s Lexus brand has used Oculus Rift technology to generate interest in its Lexus RC F model by allowing participants to drive a vehicle around a race course and scan the interior, while Toyota itself is using VR technology in its special TeenDrive 365 program, which uses VR technology and a simulator to educate teenagers about the dangers of distracted driving.
With all this happening now, it appears use of virtual reality is a new reality in the auto industry.