It's a long road to the World Car of the Year Awards.
About seven months from now the successor to this year's winner, the Jaguar I-PACE, will be named at the New York International Auto Show in April 2020.
But the road starts with nomination of 31 candidates for the top honor, and other vehicles for World Luxury, Performance and Urban cars of the year. The jury of automotive journalists also picks the winner of the World Car Design of the Year Award.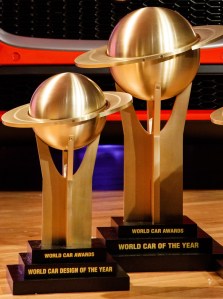 This year's 31 candidates for the top honor include the Cadillac CT4; Ford Escape and Explorer; Hyundai Palisade, Sonata and Venue; Kia Soul and Telluride; Mazda3; four Mercedes-Benz models, and a pair of Volkswagens. World Car candidates also include a number of models that are not available in America.
The Urban Car category includes the Kia Soul EV, Mini Cooper SE Electric and VW T-Cross among seven candidates overall. The dozen Luxury Car candidates include four BMWs, three Mercedes-Benz models, two Cadillacs, two Porsche models and the Toyota GR Supra. The Performance Car category comprises 13 vehicles, including five Audi models, three Porsche models, two BMWs, two Mercedes and the Toyota Supra.
All vehicles entered in other categories automatically are entered for Design of the Year. A total of 46 new vehicle models were nominated for awards.
The top-ten finalists for World Car of the Year, as wells top five in each World Luxury, World Performance, World Urban and Car Design categories will be named in February. The top three finalists in each category will be announced in March.
The awards, which were launched in 2004, are meant to "recognize, reward and inspire excellence, leadership and innovation in a rapidly changing automotive industry."
All vehicles are scored on seven criteria – occupant environment, performance, value, safety, environment, market significance and emotional appeal – from which WCOTY derives a final overall score in all but the World Car Design competition. That is decided by totaling first- to fifth-place votes for each of the nominees.