Which vehicles are most durable depends on a lot of things – including proper maintenance.
But miles they are driven per year over the long haul may be as good a measure as any.
At least that's the premise of an iSeeCars.com study of more than 2.3 million 10-year-old vehicles sold from 2015 to 2018.
The study found that nine out of the top 10 vehicles driven most on average were full-size SUVs – lead by the Chevrolet Suburban at nearly 15,000 miles – with only the Honda Odyssey minivan cracking the most-durable group.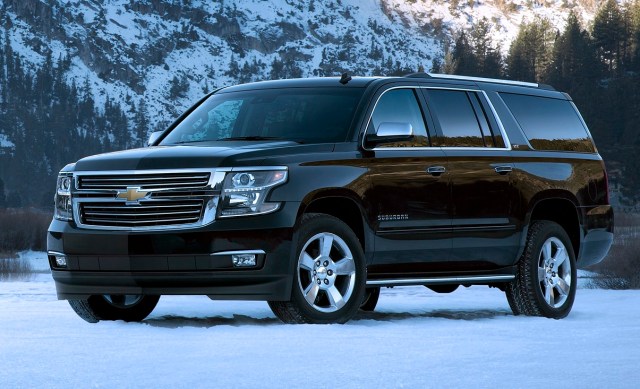 Five of the top 10 vehicles, all full-size SUVs, are General Motors products, along with two Hondas, and one Toyota, Nissan and Ford also making the most-durable list.
"Full-size SUVs are built on truck platforms so they have the durability of a truck and the cargo space for up to eight passengers, which makes them popular family vehicles," said Phong Ly of iSeeCars.com, a car shopping and research website.
"The Suburban is known for its expansive cargo room while comfortably seating up to nine passengers, which makes it popular for large families as well as for fleet use."
Overall, 16 models were driven at least 10 percent more than the average 11,987 for American vehicles, with the Suburban averaging a whopping 24 percent above average. Of the 10-year-old models surveyed, 53 typically were driven more than average.
Top 10 most-durable vehicles
Following are the most-durable vehicles identified by the survey, including body type, average miles per year and percent above the national average for 10-year-old models:
Chevrolet Suburban, SUV, 14,862, 24 percent
GMC Yukon XL, SUV, 14,708, 22.7 percent
Toyota Sequoia, SUV, 14,193, 18.4 percent
Honda Odyssey, minivan, 14,120, 17.8 percent
Chevrolet Tahoe, SUV, 14,040, 17.1 percent
Honda Pilot, SUV, 13,920, 16.1 percent
GMC Yukon, SUV, 13,755, 14.7 percent
Nissan Armada, SUV, 13,753, 14.7 percent
Ford Expedition, SUV, 13,704, 14.3 percent
Cadillac Escalade ESV, SUV, 13,615, 13.6 percent
Six more 10-percenters
The other six vehicles driven at least 10 percent more than average comprise four Toyotas, a Dodge and a Nissan, including three non-SUVs.
Those are, including body type, average miles and percent above national average:
Toyota Prius, hatchback, 13,534, 12.9 percent
Toyota Sienna, minivan, 13,442, 12.1 percent
Toyota Land Cruiser, SUV, 13,434, 12.1 percent
Dodge Durango, SUV, 13,280, 10.8 percent
Toyota 4Runner, SUV, 13,278, 10.8 percent
Nissan Altima, sedan, 13,184, 10 percent
"The vehicles with the highest annual mileage also tend to be the vehicles that last the longest," said Ly. "People who drive their cars most are likely to prolong the lives of their vehicles with regular service and maintenance, because these vehicles may be a large part of their livelihood, and in the case of large SUVs, are expensive to replace."
Top 10 most-durable cars
Following are the top 10 cars driven more than the national average:
Toyota Prius, 13,534, 12.9 percent
Nissan Altima, 13,184, 10 percent
Chevrolet Malibu, 12,747, 6.3 percent
Honda Accord, 12,744, 6.3 percent
Chevrolet Impala, 12,719, 6.1 percent
Toyota Camry, 12,608, 5.2 percent
Honda Civic, 12,575, 4.9 percent
Volkswagen Jetta, 12,472, 4.1 percent
Nissan Maxima, 12,461, 4 percent
Ford Taurus, 12,420, 3.6 percent
"Midsize sedans appeal to drivers seeking a comfortable car for commuting or family hauling, but don't require a large vehicle," said Ly. "They also provide added savings due to their often lower upfront costs and fuel efficiency."
Most-durable pickup trucks
Six pickup trucks also were identified among the highest-mileage vehicles:
Chevrolet Silverado 1500, 12,802, 6.8 percent
GMC Sierra 1500, 12,669, 5.7 percent
Toyota Tundra, 12,594, 5.1 percent
Nissan Titan, 12,509, 4.4 percent
Ford F-150, 12,494, 4.2 percent
Toyota Tacoma, 12,395, 3.4 percent
"Whether you are looking for a rugged family vehicle or a comfortable and efficient car for a long commute or something, there is a vehicle that has proven to endure years of high mileage to suit your needs," said the iSeeCars.com spokesman.
"However, it's important to note that the best way to achieve high mileage for your vehicle is to make sure you undergo the proper care and maintenance."
Find more details on the study at the iSeeCars.com website.