Your ideal vehicle is, of course, the one that best fits your budget and your lifestyle.
Sometimes that's not easy to figure out.
But that's where AutoPacific's Ideal Vehicle Awards could help.
Earlier this year, the automotive research and consulting firm surveyed 58,000 owners of recently purchased vehicles across all major manufacturers to see which new cars owners like most.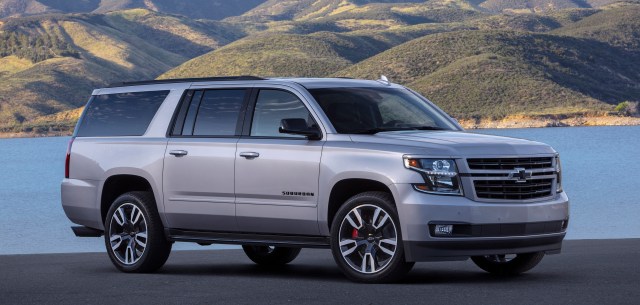 The results comprise 12 passenger cars, 10 SUVs or crossovers, four pickups and one minivan.
The Chevrolet Suburban was the overall winner, according to the AutoPacific survey, with Ford named most ideal popular brand and Tesla most ideal brand overall.
Among manufacturers, General Motors scored the most winning vehicles with seven, including six from the Chevrolet brand and led by winners in all three pickup categories. U.S. brands overall received 14 awards, European brands won eight and Asian brands received five.
And here are the models the new-car owners like most, listed by category:
Pickup trucks
Compact: Chevrolet Colorado and Honda Ridgeline
Light duty: Chevrolet Silverado 1500
Heavy duty: Chevrolet Silverado HD
SUVs and crossovers
Compact crossover SUV: MINI Countryman
Midsize crossover SUV: Ford Escape
Large crossover SUV: Mazda CX-9
Midsize SUV: Jeep Grand Cherokee
Large SUV: Chevrolet Suburban
Premium midsize crossover SUV: Ford Edge
Entry luxury crossover SUV: Audi Q3
Luxury crossover SUV: BMW X3
Luxury SUV: Cadillac Escalade
Premium luxury crossover SUV: Mercedes-Benz GLS
Passenger cars
Economy: Chevrolet Sonic
Compact: Fiat 500L
Premium compact: MINI hardtop/convertible
Mainstream electric: Chevrolet Bolt EV and Nissan LEAF EV
Midsize car: Honda Accord
Large car: Chrysler 300
Luxury midsize: Lincoln MKZ
Sporty car: Dodge Challenger
Sports car: Porsche 911
Aspirational luxury: Audi A5
Luxury: BMW 5-Series
Others
Minivan: Honda Odyssey
"[These awards] speak to a vehicle's layout and design," said George Peterson president of AutoPacific. "Giving owners a chance to tell us what they would change and how they would change it reveals which vehicles are designed to meet their needs and expectations."
"In other words, having owners who are happy with things the way they are says the manufacturer did their upfront research and designed the vehicle with their target buyer in mind."