What a way to start the new year.
You can almost hear Honda engines purring with satisfaction over results of Edmunds.com's annual awards for the most popular vehicles on the website in 2015.
The car-shopping site reported that Honda won six of 20 vehicle categories based on millions of unique online visits from January to mid-November.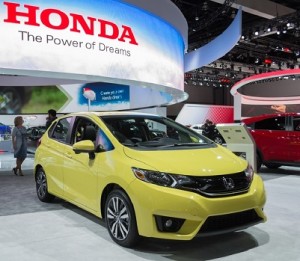 Category wins were divided among 11 brands with only three earning more than one award.
Edmunds.com reports about 20 million monthly visitors while ebizmba.com e-business guide's Top 15 most popular car websites narrows the number to about 14 million unique visits. In either case, that represents a lot of searches by car shoppers over 12 months.
Honda winners and their categories were Civic (compact car), CR-V (compact crossover SUV), Accord (midsize car), Pilot (midsize crossover SUV), Odyssey (minivan) and Fit (subcompact car).
The other multiple category winners were Chevrolet with four awards – Impala (large car), Traverse (large crossover SUV), Tahoe (large traditional SUV), Corvette (midrange sports car) – and Ford with two – Mustang (entry sports car) and F-150 (large truck).
Other Edmunds.com most popular award winners were the Toyota Tacoma (compact truck), BMW 3 Series (entry luxury car), Lexus RX 350 (entry luxury SUV), Mercedes-Benz E-Class (midrange luxury car), Acura MDX (midrange luxury SUV) Jeep Grand Cherokee (midsize traditional SUV), Land Rover Range Rover (premium luxury SUV) and Jaguar F-Type (premium sports car).
"What makes these awards truly unusual is that they're decided by a comprehensive audience of millions of car shoppers on Edmunds.com," said CEO Avi Steinlauf. "Because these accolades are determined by shoppers – and shoppers only – it's a testament to just how well the winning automakers' product and marketing efforts have resonated with the public.
Winners were determined by identifying the new models in each vehicle segment with the highest total car shopper "consideration" – the number of monthly unique visitors to the new-car research and inventory pages of Edmunds.com's desktop site.
More details on the award winners, including reviews, are available at Edmunds.com, as well as 2014 and 2015 winners if you're shopping for a pre-owned vehicle.