Are you loyal?
The answer to that question is constantly on the minds of car brands.
If you previously bought or currently own one of their models, are you happy enough to come back the next time you are shopping for a new vehicle?
You have the final say, of course.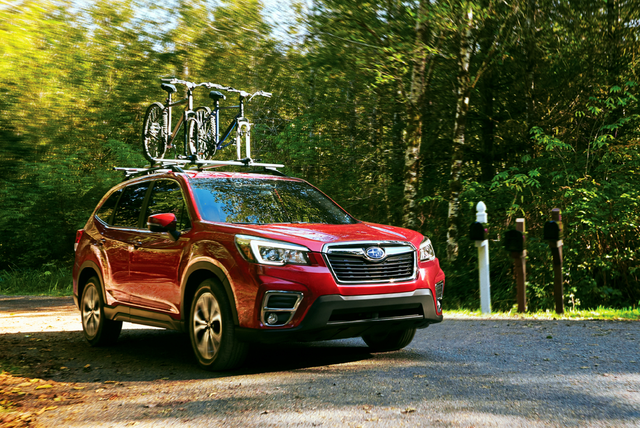 Photo credit: Subaru via Newspress USA
Subaru owners are the most loyal, J.D. Power study reports.
But in the case of car brands such as Subaru, Toyota, Honda, Ram and several other marques, customers surveyed for this year's J.D. Power U.S. Automotive Brand Loyalty Study have spoken loud and clear: "If a vehicle owner is loyal to a specific brand, it's becoming more difficult for another brand to woo them away when it's time to buy a new vehicle."
And it may come as a surprise to many that owners of mass market brands such as those mentioned above show greater loyalty than the best-rated luxury brands such as Lexus and Mercedes-Benz.
Subaru took top honors for the second consecutive year with 60.5% of current owners buying again, while Toyota finished a close second at 60.3%. Other mass market brands with loyalty rates above 50% are Honda, 58.7%; Ram, 57.3%; Ford, 54.3%, and Kia 51.3%.
The luxury brand that came closest to 50% customer loyalty was the Lexus at 48%.
"There are many factors that contribute to brand loyalty, ranging from the experience a customer has when purchasing the vehicle to how driving it makes them feel," said Tyson Jominy, vice president of data and analytics for J.D. Power. "Automakers are really focused on customer retention."
That focus was represented by payment plans and incentives automakers offered after COVID-19 hit.
"Many [automakers] have gone above and beyond to offer customers financial assistance during a period of economic uncertainty, which does a lot to bolster consumer confidence in their chosen brand and repurchase it in the future," according to Jominy.
Subaru America understandably was pleased with the study results.
"Subaru owners are drawn to the reliability and capability of our vehicles, as well as the trustworthiness of our brand," said Thomas J. Doll, president of Subaru America, when the awards were announced. "We remain grateful for the dedication of our owners, and we are proud to provide long-lasting value for our customers, as both an automaker and a brand that is more than a car company."
The 2020 U.S. Automotive Brand Loyalty Study calculations are based on transaction data from June 2019 through May 2020 and include all model years traded in.
For more details on the study, see the press release at the J.D. Power study website.
And if you're planning to finance the purchase of a new vehicle, please ask your nearest dealership about Santander Consumer USA's ability to finance customers at all credit levels. You also can look for current offers on Fiat Chrysler Automobile products such as Ram trucks.