It's unanimous.
The Subaru Forester is the best car for short people.
Based on a review of six sources – Cars from Japan, U.S. News & World Report, Consumer Reports (2), Autobytel and Short Guy Central – reflecting the best vehicles from 2017-19.
The Forester won over 13 other vehicles that received at least two recommendations each.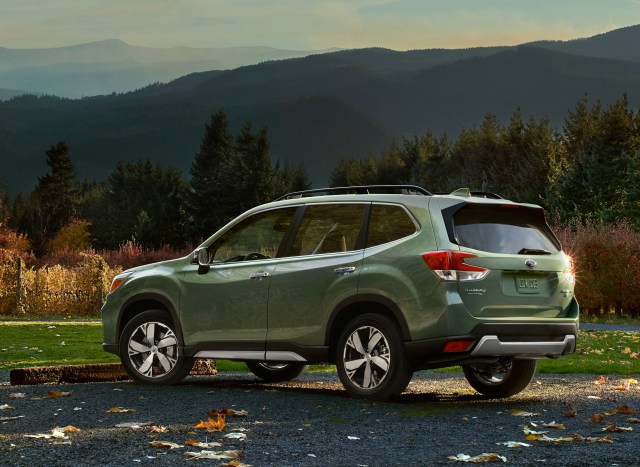 The Forester's Subaru sibling, Outback, also landed in the top five with four recommendations, while Acura, BMW, Honda and Kia scored two vehicles on the list of 14. Half of the vehicles on the list are mainstream and the other half are manufactured by luxury brands.
Another 16 vehicles received one recommendation each – again split half mainstream and half luxury.
Of course, some of the discussion of the best cars for short people depends on your definition of short.
For the record, the average height of American women is just under five-foot, four-inches while the average for men is five-foot-ten, according to the National Center for Health Statistics, which also means many "tall" women are the same height as some "short" men.
But before we get ourselves too deep in the statistical weeds, let's avoid them entirely and focus on the vehicles that almost half the population should consider seriously when buying a vehicle. Let's just say that if you're under five-foot-four then you're short and the vehicles on this list are made for you, and if you're under five-foot-ten you might want to consider them for your next purchase.
And if you're taller than five-ten? You probably will be looking at some other vehicles.
The short list of 14
Here are the vehicles that made our combined list of the top 14 cars for short people and the number of recommendations they received:
Subaru Forester (6)*
Honda Accord (5)*
Lexus ES (5)
Subaru Outback (4)*
Volvo XC90 (4)
Acura RLX (3)
BMW 7-Series (3)
Honda Odyssey (3)*
Mercedes-Benz S-Class (3)
Acura MDX (2)
BMW 5-Series (2)
Ford Flex (2)*
Kia Niro (2)*
Kia Soul (2)*
* Mainstream vehicles
It's interesting to note that every vehicle on Cars from Japan's list of 10 made the list above, while Consumer Reports' 2017 article identified nine on the list, U.S. News & World Report scored eight and Consumer Reports' 2018 article identified six vehicles in our Top 14.
And the 16 others
The other 16 cars listed by source are:
Consumer Reports
Hyundai Sonata*
Toyota Highlander*
U.S. News
Honda CR-V*
Mazda Mazda3*
Volkswagen Passat*
Autobytel
BMW 5-Series
Genesis G90
Porsche Cayman
Toyota Sienna*
Short Guy Central
Acura TLX
BMW 3-Series
Honda Civic*
Lexus LC
Nissan Juke*
Nissan 370Z
Volkswagen GTI*
"Technological innovations, including a telescoping steering wheel, electronically moving pedals, and multi-way power adjustable front seats make being behind the wheel a more user-friendly experience for short drivers," according to Consumer Reports. "The vehicles that are best for short individuals combine these technologies with good sightlines, lower door sills, and power closing lift gates."
So, whether you choose one of these vehicles or not, the best car for short people, ultimately, is the one that fits you best.