Subaru's first vehicles were sold in America 50 years ago, but you could say the brand really just arrived here in the past decade.
The first car – the Subaru 360 – was small and plain, a far cry from the automaker's current models. Their first ads conceded that "Cheap and ugly does it."
True to that first car's name, the Japanese company sold only 332 cars in 1968.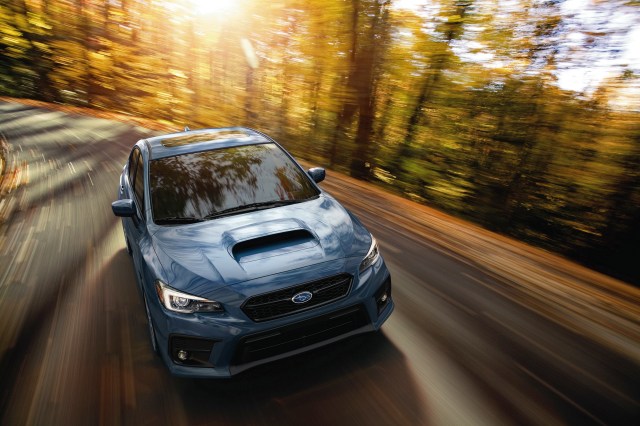 But that has changed over the last decade: You could say that Subaru now is feeling the love – the theme of the carmaker's popular, 10-year-long advertising campaign.
Sales climbed every year from 2007, when the company sold about 187,000 vehicles for 1.16 percent market share, through last year, when Subaru sold almost 650,000 for a 3.76 percent share.
"Just a few years ago, Subaru only produced 200,000 cars for the U.S. market," said the owner of an Outback sport utility vehicle and unapologetic fan in New Hampshire. "My friends and I used to joke that Toyota builds more silver Corollas than Subaru builds cars."
And Subaru isn't letting the milestone pass unnoticed.
To celebrate the company's 50th anniversary, it is producing 6,300 limited-edition models in Heritage Blue with satin chrome exterior trim and badging. That total comprises 1,050 each of the Crosstrek, Forester, Impreza, Legacy and Outback, and 1,050 total of the WRX, BRZ and WRX STI.
Manufacturer's suggested retail prices (MSRP) for the anniversary models range from $29,240 for the Impreza 2.0i Limited four-door to $42,055 for the WRX STI limited, including destination charges.
Much of Subaru's climb over the last half-century is reflected in the way it is perceived by automotive experts such as Consumer Reports, which rated the model 360 "Not Acceptable."
That was "the first time the magazine had given such a low score," according to roadandtrack.com.
Now the brand garners so many awards that it's difficult to keep track – from Insurance Institute for Highway Safety (IIHS) "Top Safety Pick" awards to Kelley Blue Book awards including "Most Trusted Brand" and, yes, Consumer Reports accolades.
So much has changed that the company's website now trumpets that "98 percent of Subaru vehicles sold in the last 10 years are still on the road today."
"I love Subaru," said the New Hampshire owner. "I could give you a lot of reasons, but plain and simple, I love driving them, working on them, owning them. In fact, I love owning them so much that I have, in my lifetime, owned 14 … [and] my current Outback is sure not to be the last."
Something that Subaru will be counting on as it enters its next half-century in America.