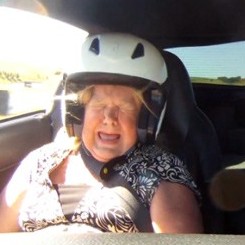 With Mother's Day around the corner, everyone is scrambling to make sure that basket of flowers, fruits or chocolates makes it to the mom's house in time.  But if your mom spends more of her time behind the wheel, ditch the roses and give her something that will make her more comfortable on the road.
Here are a few mobile Mother's Day gift ideas:
New steering wheel cover:  Whether she's the leather type or prefers something soft and fuzzy, an upgrade to the steering wheel cover will make her think of you every time she touches the wheel.
Remote car starter:  There is nothing like having the car all cooled off in the summer or warmed up in the winter. With the remote car starter, mom can get her motor running from the house and not worry about the weather dictating the temperature in her car.
Personalized car accessories: Nothing says "I love you, Mom" like a gift that has her initials on it. Whether it's a pair of car mats, a key fob or a car mug, put her name on it. Mom will appreciate the personal touch.
GPS system: Just about everyone has some sort of map application on their phone, but why not give mom a top-of-the-line GPS system? Help mom keep her eyes off of her phone and on the road with a system that speaks the directions to her.
Pet console seat: If you mom has a pet, you know Fido is considered family. So get her a pet console car seat. Fido can sit next to her all safe and comfortable, giving mom a little company on the road.
Car-Shaped USB drives:  If your mom is a gadget girl and loves a little something different, this fits the bill perfectly.  It's little, and it's different. What better way to transport her information than with a little motor drive.
So think outside the chocolate box on this Mother's Day.  Dear old mom might enjoy a gift that speaks to her love of the road.