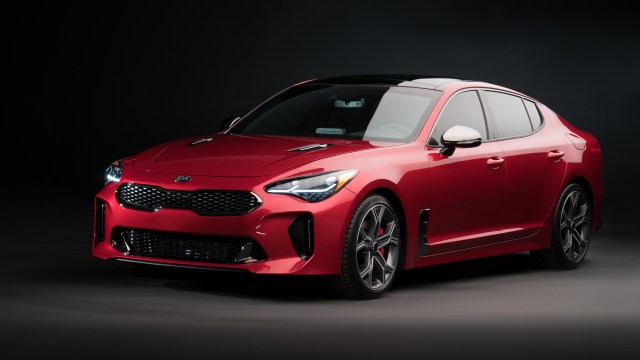 The end is in sight.
And 10 vehicles still are in the running for World Car of the Year honors.
In alphabetical order, they are:
Alfa Romeo Giulia
BMW X3
Kia Stinger
Land Rover Discovery
Mazda CX-5
Nissan LEAF
Range Rover VELAR
Toyota Camry
Volkswagen T-Roc
Volvo XC60
Two dozen vehicles still are chasing category awards – World Urban Car, World Luxury Car, World Performance Car, World Green Car and World Car Design of the Year.
In less than a month, at the Geneva (Switzerland) International Motor Show, the number of contenders for World Car overall honors and five category titles will be narrowed to a select few. Those will go to the New York International Auto Show where winners will be announced.
RELATED
Jaguar sets the pace at 2017 World Car of the Year awards at N.Y. Auto Show
"It's no great shock that familiar stalwarts and past WCOTY winners such as BMW, Mazda, Nissan and VW have been voted into the prestigious Top 10 this time around. But fast-improving Kia and born-again Alfa Romeo are welcome additions – as is a buoyant Volvo, which can do little wrong at the present," wrote Mike Rutherford, an official with the World Car Awards.
And then there's Land Rover, which earned two entries in the Top 10 – the Land Rover Discovery and the Range Rover VELAR, which also is nominated for Design Car of the Year.
The five categories and nominees in each are:
Urban Car – Ford Fiesta, Hyundai KONA, Nissan Micra, Suzuki Swift and Volkswagen Polo.
Luxury Car – Audi A8, BMW 6 Series Gran Turismo, Lexus LS, and Porsche's Cayenne and Panamera.
Performance Car – Alfa Romeo Giulia Quadrifoglio, Audi RS 3, BMW M5, Honda Civic Type R and Lexus LC 500.
Green Car – BMW 530e iPerformance, Chevrolet Cruze Diesel, Chrysler Pacifica Hybrid and Nissan LEAF.
Car Design – Citroen C3 Aircross, Lexus LC 500, Renault Alpine A110, Volvo XC60 and the VELAR.
Winners of WCOTY awards are selected by an international jury of automotive journalists and designers.
To be eligible for the overall World Car award, candidates must become available for sale on at least two continents during the period between Jan. 1, 2017 and May 31, 2018.