With all the talk these days about top-selling SUVs and trucks, not to mention small, fuel-efficient vehicles, you could be forgiven for thinking the large family car and the minivan are headed the way of the Dodo and the dinosaurs.
Well, they aren't yet: Although minivans and large cars that passed an insurance group's five crash tests are not abundant, their results are better than last year.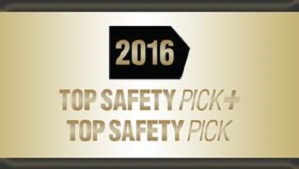 The Insurance Institute for Highway Safety (IIHS), a nonprofit scientific and educational organization, found one non-luxury model – the Toyota Avalon – worthy of its highest rating, Top Safety Pick+, among 61 new vehicles ranging from small cars and minicars to minivans, SUVs and pickups.
Still, that lone result is up from zero award winners in the non-luxury category last year.
Meanwhile, seven large luxury cars passed the IIHS tests – the Acura RLX, Audi A6, Hyundai Genesis, Infiniti Q70, Lexus RC, Mercedes E-Class and Volvo S80 – all of which received TSP+ awards. That also represents an increase from five luxury models earning TSP+ ratings last year.
RELATED:
A dozen small vehicles earn 2016 Top Safety Pick Awards
Crash tests reveal Top Safety Picks even Goldilocks would appreciate
For large vehicles overall, the crash tests returned all-or-nothing results, as the insurance group did not award any large car its second-highest ranking of Top Safety Pick.
Two minivans – the Honda Odyssey and the Kia Sedona – received TSP awards from the group.
Last year, 71 models earned the IIHS safety pick awards, with nearly half receiving TSP+ recognition.
"We've raised the safety bar for 2016," said Adrian Lund, president of IIHS. "For the first time a good rating in the challenging small overlap front crash test is a requirement to win, in addition to an available front crash prevention system."
"Just about every year we make it a little more difficult for a vehicle to get on the list," Lund said in a video (see above). "The fact is, vehicles have never been safer."
The IIHS rates vehicles good, acceptable, marginal or poor based on performance in five tests, moderate front overlap, small front overlap, side, roof strength and head restraints. The organization also assigns vehicles with front crash prevention systems ratings of basic, advanced or superior.
The Top Safety Pick awards, which started in 2006, are intended to help consumers identify the top safety performers "without having to sort through a lot of individual test results." The IIHS works in conjunction with the Highway Loss Data Institute, a nonprofit research organization that publishes insurance loss statistics on most car, SUV and truck models on U.S. roads.
Look for the last of our crash test posts next week on the Santander Consumer USA blog.