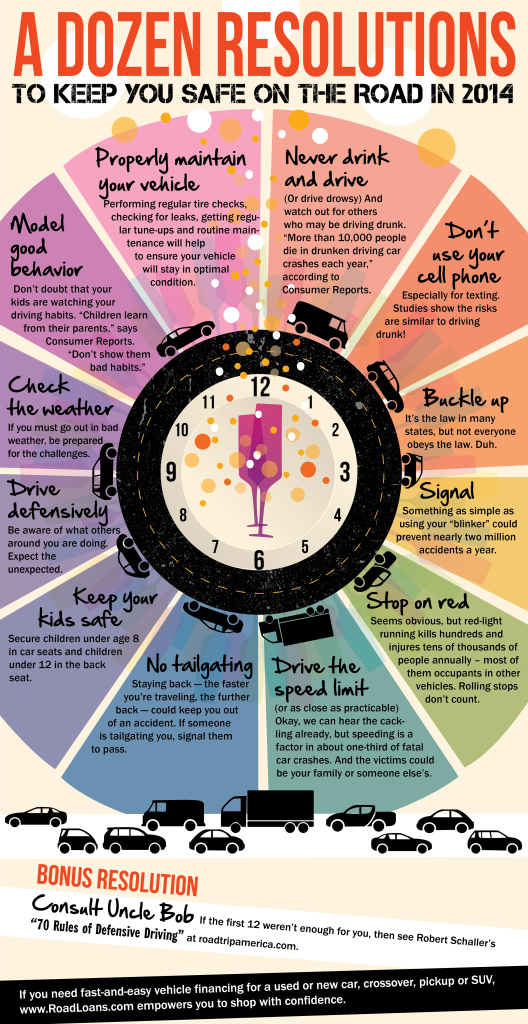 It's the beginning of a new year, so it must be time to follow through on your New Year's resolutions for 2014.
We hope that your resolutions include some safe-driving promises that you can keep during the time you spend in your car, truck or SUV.
To help you focus on the right things, we at Santander Consumer USA have come up with an infographic offering a dozen of our favorite New Year's resolutions, good any time of the year.
Keeping these resolutions will make you a better driver and keep your family safer on the road.
We've developed our list of resolutions with the help of resources such as Consumer Reports (consumerreports.org), Green Living (greenlivingonline.com) and Road Trip America (roadtripamerica.com).
"Most of us try to be good, courteous drivers, but somehow bad habits creep up, which can put ourselves and others in danger," writes Liza Barth in an introduction to her listing for Consumer Reports. "Resolve to change your dangerous driving behaviors."
Now, we know most of these resolutions will be familiar to many drivers, but that doesn't mean they aren't worth repeating, and we hope our reasons for these including each provides enough incentive for you to resolve to drive safely in 2014.