How user-friendly is your vehicle?
It's a question asked annually by WardsAuto which results in two separate awards lists, Best Interior and Best User Experience, based on evaluations by WA judges.
The inside story of Wards' Best Interior and Best User Experience awards lists of 2020 is that results for both range from affordable mass-market vehicles such as the Hyundai Venue and Kia Seltos to pricey vehicles such as BMW X7 and the stratospheric Bentley Flying Spur.
The lists are dominated by sport utility and crossover utility vehicles, with 14 of 20 entries in those segments, so, perhaps appropriately, the Toyota Highlander SUV turned in the best performance by an individual model, appearing on both top-10s.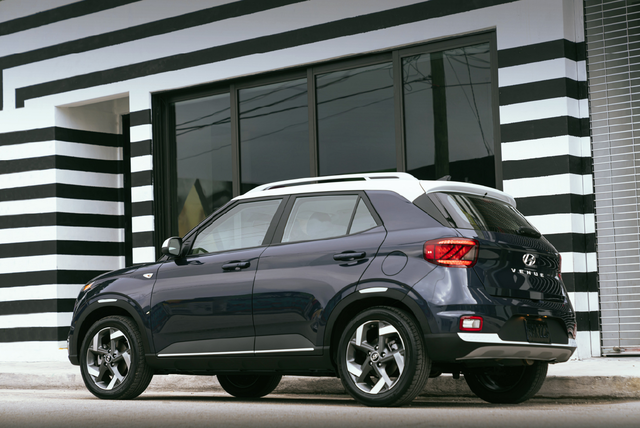 Photo Credit: Hyundai via Newspress USA
The Hyundai Venue is the lowest-priced vehicle to win a WardsAuto award.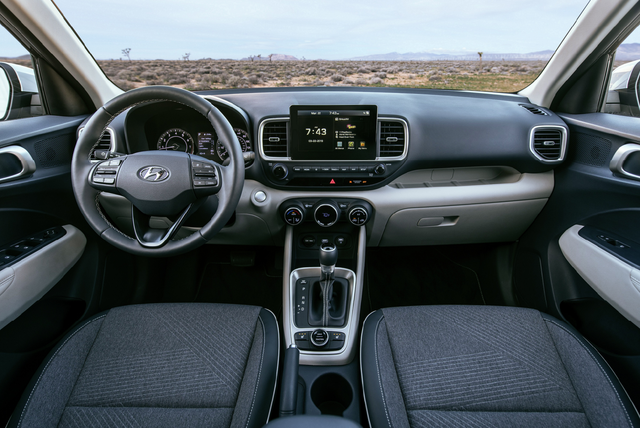 Photo Credit: Hyundai via Newspress USA
An interior with a "distinct personality" captured the Venue award.
But the overall winner was the Hyundai Motor Group, which includes Kia, with the company taking two positions for Best Interiors and two more for Best User Experience. Audi, BMW, General Motors, Ford Motor Co. (including Lincoln) and Mercedes-Benz each landed a model on both lists.
One of the winning Hyundai vehicles – the Venue – also is the least expensive of the 19 listed.
"The Hyundai Venue checks all our boxes for what makes a great interior: premium materials, excellent fit-and-finish and comfort, first-rate ergonomics and a user-friendly infotainment system," said Tom Murphy of WardsAuto. "But it's the sense of youthful style and an overwhelmingly positive first impression that wins us over in the Venue."
"We wanted to create an interior with a distinct personality by color matching and details not typically seen in this segment," said Simon Loasby of the Hyundai Design Center. "The Wards 10 Best Interiors recognition confirms our playful use of colors and materials has made Venue a standout."
Here are the winners, listed from least to most expensive for each set of awards:
Best interiors
The Wards 10 Best Interiors list recognizes outstanding achievement in aesthetics, comfort, ergonomics, materials usage, fit-and-finish and user-friendliness of displays and controls.
Hyundai Venue ($23,305)
Nissan Sentra ($24,800)
Kia Telluride ($47,255)
Toyota Highlander ($51,654)
Mercedes-Benz GLB ($57,470)
Chevy Corvette Stingray ($78,820)
Lincoln Aviator ($81,790)
Audi e-tron ($85,790)
BMW X6 M Competition ($131,745)
Bentley Flying Spur ($283,275)
Wards selected the best interiors from a list of 32 nominated vehicles with all-new or significantly redesigned cabins available in the U.S. There is no price cap for 10 Best Interiors, but value is a factor.
Best user experience
The Wards 10 Best UX list recognizes and assesses the user-friendliness of technology such as touchscreens, smartphone pairing, voice-control navigation, head-up displays and the effectiveness of driver-assistance technologies such as adaptive cruise control and blind spot monitoring.
Kia Seltos ($29,485)
Chevrolet Trailblazer ($32,350)
Hyundai Sonata ($34,365)
Subaru Legacy ($36,795)
Ford Escape ($44,220)
Mercedes-Benz CLA ($48,295)
Volkswagen Atlas Cross Sport ($51,050)
Toyota Highlander ($51,112)
Audi Q7 ($75,290)
BMW X7 ($113,845)
Wards judges chose the UX winners from a field of 18 vehicles with all-new or significantly improved user-experience features for 2020.
"This is a great list of new vehicles that span a wide swath of the U.S. market, from mainstream to luxury," Dave Zoia, executive director of Wards Intelligence, said of the UX winners in comments that could have applied equally well to the Best Interior competition.
"The fact that so many of this year's winners are crossovers tells you exactly where automakers are targeting … the latest vehicle technologies," he said.
The user experience and interior competitions are in their fifth and 10th years, respectively.