Two years of a global pandemic and the lifestyle changes that came along with it, coupled with high fuel prices and inventory shortages, have changed the car buying experience. In May 2022, Santander Consumer USA surveyed people across the United States to see how driving habits and car preferences have evolved over the past couple of years.

Fuel-efficient vehicles gain interest
When asked what feature was most important when considering a new vehicle, 59 percent said fuel efficiency, followed by safety features (32 percent). It may be more than a desire to be eco-friendly that is behind this trend.
With gas prices averaging well above $4 a gallon, according to AAA, some people are seriously looking into hybrid, electric and plug-in car options. When asked how their approach to shopping for a car has changed over the past two years, 33 percent said they are looking at a wider variety of vehicles in light of current gas prices and the amount of time they spend on the road.
Think an electric vehicle is for you? Here are some of the most affordable 2022 electric cars according to Edmunds.com:
2022 Nissan Leaf: $27,400
2022 Mini Cooper SE: $29,900
2022 Chevrolet Bolt EV: $31,000
2022 Mazda MX-30: $33,470
2022 Hyundai Kona Electric: $34,000
If gas mileage is key in your mind, Cars.com recently published a list of 2022's most fuel-efficient vehicles:
Gas-only
Mitsubishi Mirage: 36/43/39 mpg city/highway/combined
Hyundai Elantra: 33/43/37 mpg
Honda Civic: 33/42/36 mpg
Hyundai Accent, Kia Rio (tie): 33/41/36 mpg
Toyota Corolla Hatchback: 32/41/35 mpg
Gas-electric hybrids
Hyundai Ioniq: 58/60/59 mpg
Toyota Prius: 58/53/56 mpg
Hyundai Elantra Hybrid: 53/56/54 mpg
Honda Insight: 55/49/52 mpg
Toyota Corolla Hybrid: 53/52/52 mpg
Plug-in hybrids
Toyota Prius Prime: 133 mpg-equivalent (mpg-e)
Hyundai Ioniq Plug-in Hybrid: 119 mpg-e
Kia Niro Plug-in Hybrid: 105 mpg-e
Ford Escape Plug-in Hybrid: 105 mpg-e
Toyota RAV4 Prime: 94 mpg-e
Traditional dealerships remain king, but online shopping gains popularity
People enjoy the convenience of shopping online for many things – and their next vehicle is no exception. Seventeen percent of respondents said that over the past two years, they are shopping more online and less at physical dealerships. In fact, a quarter of respondents said they plan to purchase or lease their next vehicle online. That being said, 71 percent of survey takers indicated they plan to purchase or lease their next vehicle the old-fashioned way – in a traditional car dealership.
While the majority of survey takers indicated they are comfortable buying or selling a vehicle from an online car retailer, nearly a third (31 percent) said they have some reservations. Those who did not trust online car retailers cited concerns over scams and a desire to see the vehicle in person before buying.
An analysis by Santander Consumer USA identified almost 100 online used car shopping resources. Here are our best used car websites:
• Edmunds.com
• iSeeCars.com
• Facebook Marketplace
• Autolist.com
• Craigslist.org
• CarGurus
• Kelley Blue Book
• Autotrader
• TrueCar.com
• Cars.com
• AutoTempest.com
• Carvana
• CarsDirect
Plenty of time still spent behind the wheel
More than half of survey respondents (56 percent) said over the past two years they spend less time driving. Despite the rise of remote and hybrid work, 8 percent said they are actually driving more these days and another 27 percent indicated their driving habits haven't changed at all.
Use this interactive map to see what the average commute time is like in your area.
Higher prices not stopping need for new cars
With new cars selling above MSRP, many people are trying to avoid purchasing a new vehicle now if possible. Despite this, 42 percent of respondents said they are interested in purchasing a vehicle within a year.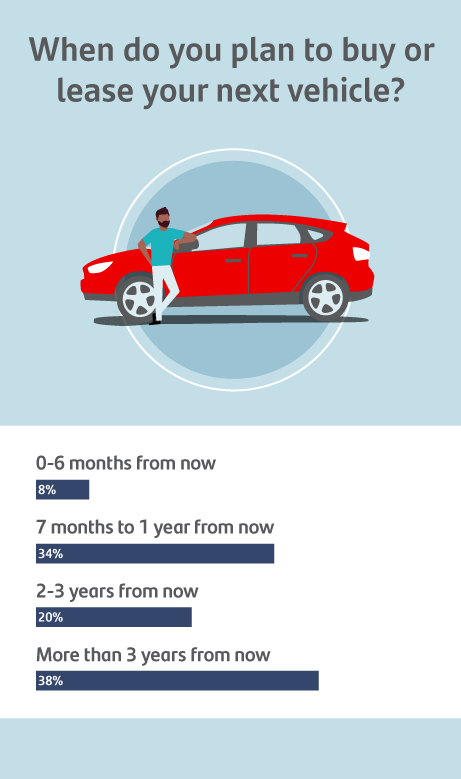 Nearly half (47 percent) of survey respondents indicated that the top reason they'd be in the market for a new vehicle is simple – their current vehicle is old or in need of extensive repairs. Another 17 percent of respondents said that getting a good price to sell or trade in their current vehicle would be the main reason for getting a new car.
Thanks to lower vehicle inventory, people have been able to sell their current used vehicle for a profit. According to data from the U.S. Bureau of Labor Statistics, the consumer price index for used cars and trucks rose more than 40 percent from January 2021 to January 2022. However, only 10 percent of survey participants indicated that they, or someone they knew, sold their used vehicle in the past two years for a profit.
While we continue today in ever-changing times and fluctuating elements such as fuel prices, judging by our survey respondents, it's clear that car buyers over the past two years have adjusted the way they are shopping and the type of vehicles they are looking for.

Study Methodology:
The study was conducted using an online panel methodology where consumers of driving age were invited to complete the questionnaire through a remote study platform.