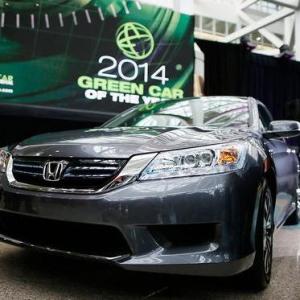 And then there were five – the greenest of the green – one of which will be named 2015 Green Car of the Year by Green Car Journal on Nov. 20 at the LA Auto Show.
The finalists for the 10th annual award – the Audi A3 TDI, BMW i3, Chevrolet Impala Bi-Fuel, Honda Fit and Volkswagen Golf – came from an "expansive field" that included all vehicles, fuels and technologies, reported Green Car Journal, a leading source on green car technologies.
Finalists are selected for their achievements in "raising the bar" in environmental performance, and must be available for sale to the mass market by Jan. 1, 2015, to be considered.
An increasing number of vehicle models are considered for the Green Car of the Year program each year, a reflection of the auto industry's expanding efforts in offering new vehicles with higher efficiency and improved environmental impact, according to Green Car Journal.
The publication previously named its finalists for the Green Truck of the Year – Chevrolet Colorado, Ford F-150, GMC Canyon, Ram 1500 EcoDiesel and Ram 1500 HFE.
Here's what the Green Car Journal had to say about the five Car of the Year finalists:
Audi A3 TDI
An exciting choice for those looking to go upscale and 'green,' appearing for the first time as a stylish four-door sedan featuring the automaker's new fuel-efficient, 2.0-liter TDI clean diesel power plant.
BMW i3
Offering a lightweight carbon fiber reinforced plastic body on an aluminum space frame, the i3 offers environment-conscious drivers all-electric drive with an optional internal combustion range extender.
Chevrolet Impala Bi-Fuel
This sedan breaks new ground by offering the comfort and functionality of a popular mid-size, four-door sedan with the ability to drive on affordable clean natural gas or conventional gasoline.
Honda Fit
The third-generation Fit features a new space-efficient body and flexible seating configuration to bring class-leading interior room, combined with 41 highway mpg from a new 1.5-liter gasoline engine.
Volkswagen Golf
VW's seventh-generation Golf offers something for everyone in a stylish and fun package, with new 2.0-liter TDI clean diesel, efficient four-cylinder gasoline, and in some areas of the country, all-electric drive.
"These five exceptional vehicles reflect an expanding 'green' car field that embraces diverse fuels and technologies as answers to a more efficient and low-carbon future," said Ron Cogan, editor and publisher of Green Car Journal and CarsOfChange.com, in announcing the final five.
"Each offers a distinctly different approach to driving 'green' that appeals to buyers with varying needs and perspectives on how best to lessen environmental impact, while maintaining the joy of driving."
The winner is selected by majority vote of a jury that comprises celebrity auto enthusiast Jay Leno, Jean-Michel Cousteau, president of Ocean Futures Society, and other environmental organizations.
Previous winners of the Green Car of the Year award were the Honda Accord Hybrid/Plug-In Hybrid (2014), the Ford Fusion Hybrid and its plug-in version (2013), the Honda Civic Natural Gas (2012) and the Chevrolet Volt extended-range electric vehicle (2011).
See the Santander Consumer USA blog for more news on auto-, auto-finance and SCUSA-related topics.