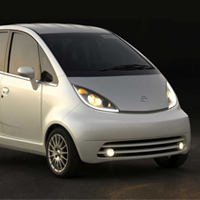 A couple small things grabbed my attention while perusing recent online automotive stories at Car and Driver and FoxNews.com.
They are the Tata Nano and the Ford C-Max Hybrid, two cars hoping to make a big splash in the U.S. auto market. Produced in India (and sold there for about $3,000), the Nano is expected to sell for about three times that much here. The C-Max is pricier at $25,000-plus.
Aaron Robinson writes about the 2013 C-Max online for Car and Driver, and FoxNews.com reports on the Nano, saying it'll hit the U.S. automobile market within three years.
"After watching Toyota build itself a solid business with the Prius … Ford is one Detroit automaker finally getting serious about hybrid," Robinson writes. FoxNews is a little more guarded in its reporting about the Nano, which was designed "to compete in the Indian market against scooters and motorcycles."
The C-Max is EPA rated at 47 mpg, but "don't go shopping for [gas or diesel versions] here. The C-Max will only be available in the U.S. as a hybrid in an effort to try and create a new green brand name for Ford," according to the report this month at FoxNews.com.
Will we be able to pick the C-Max out of a crowd once it hits the streets? Maybe not.
"The C-Max hearkens back to the 'function first' days of amorphous, anonymous crossovers," proclaims the FoxNews online report, Quick Spin. "It's handsome enough, but it blends."
On the other hand, the insect-like Nano should be easier to identify with its distinctive shape and size –which you're going to have to see to believe. And even then you might not believe.
But if celebrity endorsements mean anything at all, the Nano has an owner/champion in TV comedian Jay Leno. Get a good look at the Nano in this YouTube video "From Bollywood to Hollywood."
If that doesn't intrigue you, at least you'll recognize them when they start showing up on the highway.