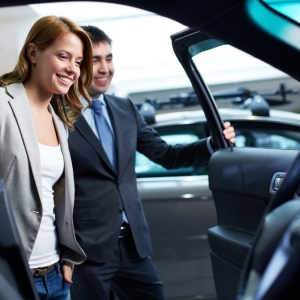 Satisfaction may not be guaranteed yet, but many women report that they are happier about their auto dealership experiences – shopping, buying, leasing and servicing – than the same time last year, an advocacy website says.
Those findings appear in the "2015 U.S. Women's Car Dealerships Report" by Women-Drivers.com.
"Many of these buyers are having more than 'satisfied' visits at car dealerships," said Anne Fleming, president of Women-Drivers.com, an auto-dealership-review website that attracts about 1.2 million visitors a year. "They are truly delighted by the respectful and trustworthy manners of their sales advisers. In turn, when asked to write a review, they are generous."
Based on surveys submitted by more than 3,400 visitors, Women-Drivers.com found the following:
Shopping – The Women Satisfaction Index (WSI) increased to 4.37 out of 5 points from 4.25 last year. The five top-rated shopping brands for women are Volkswagen, Ford, Chevrolet, Jeep and Buick.
Purchasing – WSI rose to 4.73 from 4.65 in 2014, with the five top-rated brands identified as Mercedes-Benz, which also was No. 1 last year, plus Lincoln, Dodge, Jeep and Chrysler.
RELATED: Women want respect from salespeople when shopping for a new vehicle
Leasing (a subset of purchasing) – The overall WSI rose to 4.88 from 4.8 last year, with 98 percent of women saying they would recommend their sales adviser when leasing a car.
Servicing – The satisfaction index rose to 4.57 from last year's 4.38, with the five top-rated brands selected being BMW, Volvo, Mercedes-Benz, Porsche and Audi.
"In the past, women haven't been asked for any real feedback by the industry, with the exception of the (Customer Satisfaction Index used by dealers)," said Fleming. But through Women-Drivers.com, which compiles dealer reviews focusing on women and families, "they are empowered and have the opportunity to share their voice and provide productive opinions."
That's viewed as important because women were responsible for purchasing an estimated 13 million new and used cars at dealerships in 2014, according to the website. That represented almost one-third of all new and used vehicle purchases last year, which means "dealerships have to literally change gears, advertising, amenities and their sales strategies to attract this powerful force."
Meanwhile, dealership groups and manufacturers use data compiled by the website "to better understand, improve and shape the customer's experience," said Women-Drivers.com, keys to attracting and keeping customers' loyalty.
"Women know they can buy a car anywhere in their respective cities," explained Fleming. "It's in a dealer's best interest to strategize and market to women."
Let us know about your experiences by commenting on the post on our Facebook page.