Made in America.
Three words that carry special meaning as we approach the Fourth of July – Independence Day – the most American of all holidays.
Words that many think don't apply to most vehicles sold in America.
While there may be a lot of truth to that, it doesn't mean Americans who are feeling especially patriotic have no choice but to purchase vehicles manufactured elsewhere.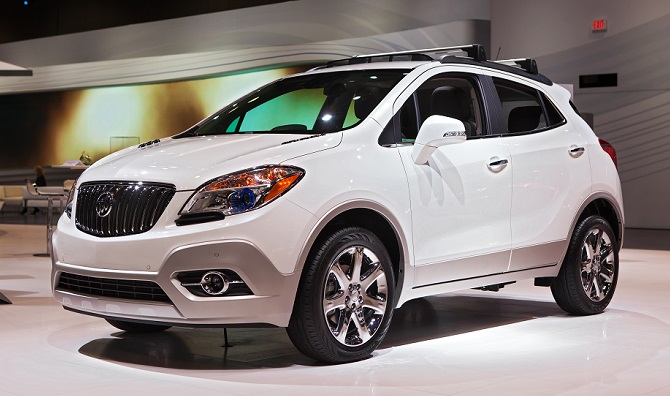 In fact, 83 vehicle models – about 22 percent – of nearly 400 from 25 brands identified in the National Highway Traffic Safety Administration's 2016 American Automobile Labeling Act report are built at least 50 percent of parts made in America (United States and Canada).
Several FIAT Chrysler Automobiles (FCA) brands – Dodge, Jeep, Chrysler and Ram – which would have significantly improved the numbers based on the 2015 data were not available in the 2016 report.
Those brands would add 15 models to the list of products with at least 50 percent American-made parts, ranking FCA brands among the most reliant on American-made parts. Other brands not included in the 2016 report – and which generally used very small percentages of American-made parts – were Jaguar Land Rover, Rolls-Royce Motor Cars and Hyundai Motor Company.
More than one-quarter of the 83 are built of 70 percent or more domestically produced components, based on the NHTSA data, and about three-quarters comprise at least 60 percent American-made parts.
AMERICAN AS APPLE PIE
Only if a shopper is looking for a vehicle comprising 80 percent or more of America-made parts do the pickings truly get slim with just five clearing that hurdle, and the missing brands don't change that.
Among the five models that meet the highest bar for those in a patriotic frame of mind are three from General Motors (Buick Enclave, Chevrolet Traverse and GMC Acadia) and two Honda Accords. Even better, the engines for all five vehicles are sourced in the United States, where the vehicles also are assembled, while four of the five also use transmissions made in the United States.
WAVING THE FLAG
Four more models sold here – two each from Japanese automakers Honda (Pilot and Odyssey minivan) and Toyota (Camry and Sienna minivan) – comprise 75 percent American-made parts, including transmissions and engines, with final assembly also occurring in the United States.
FCA's Dodge Grand Caravan also would be included on this list, based on the 2015 report: Although it is assembled in Canada, parts include U.S.-made engines and transmissions.
AMONG THE BEST
Honda Motors dominated the 70-74 percent range of American-made parts with nine of 13 vehicles, including two Acura models, while Fords and Toyotas comprised the remainder of the list. Besides the Ford F-150, the first truck on the list, vehicles were Ford Edge, Toyota Avalon and Highlander, Acura RDX 2WD and AWD, plus three Honda CR-Vs and four Civic models.
This range includes four FCA products named in the 2015 report: Jeep Wrangler (two-door and four-door models) and Cherokee, Chrysler Town and Country and Dodge Viper.
OTHERS ON RADAR
Nearly three-quarters of the vehicles that made the list here comprised 60-69 percent or 50-59 percent American-made parts, with 40 vehicles in the upper range and 21 vehicles in the lower range.
Brands represented in the 60-69 percent range of American-made parts in the 2016 report – with General Motors dominating with 22 of 40 vehicles – are Chevrolet (11); Cadillac, Ford and Toyota (five each); Acura (four); Buick and GMC (three each); Lincoln (two), and Mercedes-Benz (two). This range also would include Dodge (four), Jeep (three), Chrysler (two) and Ram (one).
The 50-59 percent range comprised Nissan (eight vehicles); Lincoln (three); Ford, Chevrolet and Infiniti (two each); Cadillac, Hyundai, Kia and Lexus (one each).
Specific models from these ranges and historical data are available at the NHTSA website.
BACK OF THE PARADE
On the other end of the spectrum, nearly 300 models (about 78 percent) comprise less than 50 percent American-made parts, with 12 using 40-49 percent, five using 30-39 percent, 10 with 20-29 percent, 18 using 10-19 percent, and the remainder – more than 250 vehicles – comprising under 10 percent.
The lowest range, comprising 136 vehicles with 0-1 percent American-made parts in the 2016 report, is dominated by brands such as Audi, Hyundai, Infiniti, Jaguar Land Rover, Kia, Lexus, Mitsubishi, Mazda, Mercedes-Benz, Nissan, Scion, Subaru, Volkswagen and Volvo.
THE BOTTOM LINE
The total of 98 models comprising 50 percent or more American-made parts, including FIAT-Chrysler products from the 2015 labeling act report, is down just slightly from 102 models five years ago.
But the number of models clearing the 80 percent hurdle dropped to five from 13 and the number in the 70-79 percent range fell by half to 17 models from 34. Slightly more models were reported in the 60-69 percent range and the 50-59 percent range of American-made parts.
All this data means it's getting harder to be patriotic when shopping for a vehicle, if buying American-made products or products made mostly of U.S. parts is a way of expressing your patriotism.
Still, there are a lot of choices for a new-car purchase if you're inclined to buy American.
Especially around the July Fourth holiday.